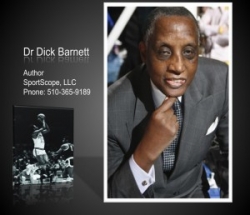 Martha's Vineyard, MA, August 10, 2016 --(
PR.com
)-- On Sunday, August 14, 2016 from 12:00 PM to 3:00 PM former NBA Legend and NY Knicks star Dr. Richard "Dick" Barnett will make a special appearance at The Alex Cohen Memorial Basketball Marathon at the Chilmark Community Center - 520 South Road, Chilmark, MA on Martha's Vineyard. Dr. Barnett will congratulate the event's organizers, the Cohen family, for their commitment to charity, community, education and for keeping their son's dream alive. The annual event is named in honor of it's young co-founder and is an all day of basketball "pick up" games that brings a mixed age group together playing for the love of the game. Irving Cohen, Alex's father and organizer of the event, is ecstatic about Barnett's support. "Alex was a huge Knicks fan. He would be so thrilled to know that Dick Barnett was supporting the basketball marathon he initiated."
The Gary, Indiana native, a three-time All-American player at Tennessee State, was the first draft pick of the Syracuse Nationals. He played two years with the Nationals and three with the Los Angeles Lakers before signing with the Knicks. He was an integral part of both of the only two Knicks championships.
After his basketball career, Barnett received a PhD in education at Fordham, and retired from teaching sports management at St. John's in 2007. He currently serves as President of Sport Scope, The Center for Study and Research of Athletes and Sports in American Society. He has authored several books, including The Awakening; The Power Elite; The Legacy; and coming soon, Fall Back Baby.
Dr. Barnett will also participate in a book signing at the Oak Bluffs Library on August 16th at 3pm. A welcome reception will held for Dr. Barnett at the Hob Knob in Edgartown on August 15, 2016.
For more details contact event organizers at 855-422-9460
Contact: Denise Carter
929-295-3459