Coast Music Debuts New Logo, Website and Focus on Rock and Popular Music Styles
Coast Music Rocks! That's the new message this prominent music school wants their community, students and teachers know - and to emphasize the new focus on teaching real world rock and other popular music styles. The new logo and website represents Coast Music and their faculty of working, professional musicians, all with a passion for teaching music.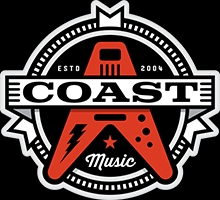 Hermosa Beach, CA, August 16, 2016 --(
PR.com
)-- Responding to an increasing demand from students and parents, Coast Music has retired the more formal 'conservatory' from its name, and is now know as just 'Coast Music'.
"We've always been based in rock, pop and jazz but the feedback we received was that being known as a music conservatory might have led people to believe we were a school for more traditional classical instruction of woodwinds and strings," said Coast Music General Manager Angie Deters. "Our new logo and website now does justice to our students and faculty and the types of music they teach and perform. You won't find a more experienced group of working professional musicians on any other faculty in the nation."
The music school was founded in 2004 by Deters' sister and brother-in-law, Beth and Matt Rohde, both professional working musicians. Coast Music believes in real-world experience and strives to create opportunities for students to rehearse and perform in a variety of settings outside the classroom. Coast Music students perform at local clubs, festivals, beach concerts, public events, on TV, in film, in theaters and more.
Their teachers have trained, performed and recorded with artists like Stevie Wonder, Slash, Kelly Clarkson, Prince, Bella Thorne, Demi Lovato, Christina Aguilera and Selena Gomez and are an inspiration to their students to what talent, practice and passion can achieve.
Coast Music is now accepting new students for both private lessons, bands and choirs for the fall session. Inquiries can be made by calling Angie Deters at 310-372-4753.
The new Coast Music website is at www.coast-music.com and the new logo can be downloaded at http://coast-music.com/logos-for-media/.
Contact
Coast Music
Angie Deters
310.372.4753
coast-music.com

Contact