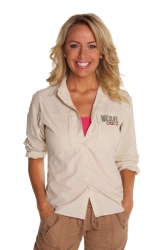 Burbank, CA, August 26, 2016 --(
PR.com
)-- Natural 9 Entertainment, a Burbank-based Emmy® Award-winning production company, has announced today that their hit family series "The Wildlife Docs™", a weekly half-hour program about the adventures of the highly skilled veterinarians at Busch Gardens Tampa Bay®, airing on ABC as part of Litton's Weekend Adventure, has been renewed for its fourth season comprised of 26 original episodes.
Each segment of the show features amazing exotic animals and the people who care for them at the park's Animal Care Center and beyond. During the third season, viewers watched The Wildlife Docs as they traveled to Panama and East Africa to help rescue and provide medical attention to exotic species in the wild. The production for the next season is already underway where the team will once again go beyond the park walls with episodes shot in Cambodia and Mexico, where the Docs even go on a shark dive.
Wildlife activist and comedienne Rachel Reenstra returns as the host of the popular series. Reenstra previously starred in her own Animal Planet show titled "Ms. Adventure," where she traveled the world comparing animal and human behavior.
"We are thrilled to continue shooting with our two and four-legged friends for yet another exciting Season," said Jeff Androsky, President of Natural 9 Entertainment. "We have all experienced some pretty amazing things while filming the show over the past three years and are very excited to see what's in store for The Wildlife Docs in the years to come."
"The Wildlife Docs embodies the purpose of SeaWorld & Busch Gardens. It's not just an award-winning television show, but it's yet another way our company provides education about conservation, wildlife care and rescue and how everyone can make a difference for animals around the world," said Anthony Esparza, Chief Creative Officer for SeaWorld Parks and Entertainment.
About Natural 9 Entertainment:
Headed by 11-time Emmy Award-winning producer Jeff Androsky, Natural 9 Entertainment has produced thousands of episodes of aired Television for virtually every Network and Cable outfit over the last two plus decades, including major Live television events such as "FOX's New Years Eve Live," "Death Jump: Live!" (Robbie Knievel's Jump across Grand Canyon), as well as major broadcasts of the "EMMY Awards" (LA), "The Movie Guide Awards" and the "Really Awards!" Natural 9 is also behind such weekly series as "Reality Remix," "HubWorld," and "Hollyscoop" as well as docu-soaps "Reinventing Bonaduce" and "Chris & Adrianne Do Russia," among others. Currently, the company is producing their award-winning ABC series "The Wildlife Docs," Nat Geo series "LimoMasters" and CW's new family series "Dream Quest with Evette Rios." Natural 9 Entertainment is a division of Tri-Crown Production Group. For more info please visit: http://www.natnine.com
About SeaWorld Parks & Entertainment:
SeaWorld Parks & Entertainment™ is a leading theme park and entertainment company providing experiences that matter and inspiring guests to protect animals and the wild wonders of our world. The company is one of the world's foremost zoological organizations and a global leader in animal welfare, training, husbandry and veterinary care. The company collectively cares for what it believes is one of the largest zoological collections in the world and has helped lead advances in the care of animals. The company also rescues and rehabilitates marine and terrestrial animals that are ill, injured, orphaned or abandoned, with the goal of returning them to the wild. The SeaWorld® rescue team has helped more than 28,000 animals in need over the last 50 years.
The company owns or licenses a portfolio of recognized brands including SeaWorld, Busch Gardens® and Sea Rescue®. Over its more than 50-year history, the company has built a diversified portfolio of 12 destination and regional theme parks that are grouped in key markets across the United States, many of which showcase its one-of-a-kind zoological collection of over 800 species of animals. The company's theme parks feature a diverse array of rides, shows and other attractions with broad demographic appeal which deliver memorable experiences and a strong value proposition for its guests.
SeaWorld Parks & Entertainment is a wholly owned subsidiary of SeaWorld Entertainment, Inc., a publicly traded company.
Visit www.seaworldentertainment.com for more.