Bipin Patel Recognized as a Professional of the Year by Strathmore's Who's Who Worldwide Publication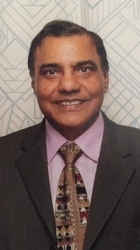 Richmond, TX, August 31, 2016 --(
PR.com
)-- Bipin Patel of Richmond, Texas has been recognized as a Professional of the Year for 2016 by Strathmore's Who's Who Worldwide Edition for his outstanding contributions and achievements in the field of natural gas.
About Bipin Patel
Mr. Patel is the Chief Technology Engineer at Siluria Technologies, Inc. which is an international corporation comprised of major oil companies, a gas production company, EPC companies and technology start-up companies. It provides commercial production of fuels and chemicals made from heavy oil-sands, abundant natural gas and bio-diesel from wood. With almost 40 years of experience, he is responsible for bringing new technology to fruition. He solves issues with current technology and is experienced in all aspects of Front End Engineering and business solutions. Mr. Patel also provides some consulting. He authored three patents in the Gas Conversion Sector and gives presentations at various world conferences in the field of GTL, LNG, CTL and refining processes. He is a Professional Member of the Ontario Professional Engineers Canada.
Born in Kampala, Uganda, Mr. Patel obtained a B.Sc. in Chemical Engineering from Leeds University in Yorkshire in the United Kingdom in 1978. He specialized in Oil Sands Upgrading and Refining for 20 years. He served in the gas industry for 18 years for LNG, GTL and NGL Recovery. Mr. Patel's career has spanned major operating companies, major EPC organizations and innovative start-up and technology breakthrough companies. He has been with Siluria Technologies, Inc. of San Francisco since October of 2013. Previously, he served as a Project Engineering Manager with KiOR of Houston from 2012 through 2013. From 2010 through 2012 he was a General Manager of Clean Energy with Linc Energy Ltd. Mr. Patel was a Director I of Process Technology and Specialty Engineering with Fluor of Houston, Texas from 2006 through 2010. From 2003 through 2006 he was a Principal Consultant for the Oil and Gas Division of Foster Wheeler in the U.K. He was a Senior Process/Project Engineer with Shell Global Solutions International of London from 2001 through 2003. He served as the Head of Refining and Gas Processing within the New Ventures Division of Qatar Petroleum Corporation from 1997 through 2001. Mr. Patel began his career as a Manager with Suncor Energy of Canada from 1983 through 1997.
Mr. Patel is known for coming up with innovative operating solutions and keeping an oil sands upgrading facility in operation during the winter months. He increased the capacity and production twofold of Alkylate from the HF Alkylation Unit with diligent operation and process improvements. Mr. Patel developed strategic plans for company growth and expansion. He is a champion for the implementation of Oryx- GTL Company in Qatar working as Head of Downstream New Ventures Division at Qatar Petroleum. He managed and performed feasibility and FEED for a 4.3 MTPA LNG facility for Woodside in Australia while working with Foster Wheeler and SGSI. Mr. Patel managed all the process engineering functions for the Secunda Growth Program at Sasol's Gas to Liquid Facility while employed at Fluor Inc. He was the Lead for a feasibility study for a 4000 BPD GTL facility utilizing underground coal gasification technology.
Mr. Patel married Jyoti Patel on July 16, 1981 and they have three children, Rishma, Brijesh and Nisha. In his spare time he enjoys family activities, golf, cricket and reading.
For further information, contact www.siluria.com.
About Strathmore's Who's Who Worldwide
Strathmore's Who's Who Worldwide highlights the professional lives of individuals from every significant field or industry including business, medicine, law, education, art, government and entertainment. Strathmore's Who's Who Worldwide is both an online and hard cover publication where we provide our members' current and pertinent business information. It is also a biographical information source for thousands of researchers, journalists, librarians and executive search firms throughout the world. Our goal is to ensure that our members receive all of the networking, exposure and recognition capabilities to potentially increase their business.
Contact
Strathmore Worldwide
Susan Perrault
516-677-9696
www.strathmoreworldwide.com
Syndi Reibman

Contact