Introducing "Korea Rural Tourism Supporters," Seekers of Korea Rural Adventures
The "Korea Rural Tourism Supporters (KRTS)" program was launched as a part of the business project conducted by the Ministry of Agriculture, Food and Rural Affairs and public institution "Korea Rural Community Corporation" in order to promote Korea's agritourism to foreigners.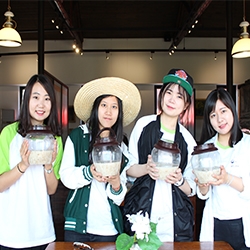 Seoul, Korea, South, September 02, 2016 --(
PR.com
)-- Have you ever experienced making makgeolli (rice wine)? Makgeolli is a favorite traditional alcohol among Koreans. Many may have tried and tasted this tingling, cold alcohol but few have actually personally experienced making Makgeolli with their own hands.
A group of international students living in Korea gathered to visit local farms and experience Korea rural culture through a program called the "Korea Rural Tourism Supporters (KRTS)." The KRTS program was launched as a part of a business project conducted by the Ministry of Agriculture, Food and Rural Affairs and public institution "Korea Rural Community Corporation" in order to promote Korea's agritourism to foreigners. The supporters are made up of 60 international students from 7 countries (China, Taiwan, Hong Kong, Singapore, Malaysia, Thailand, Philippines) who are studying in Korea. With their extraordinary love for Korea rural villages, they strive to introduce Korea's beautiful hidden places. After experiencing a variety of enjoyments and foods, the supporters promote their experiences at these rural farms through their individual social media channels including Blog, Weibo, Facebook or Instagram in their native languages.
So far, the supporters have gone on 4 field trips and visited 8 different rural villages (Jincheon Murantteul Village, Danyang Banggok Goblin Village, Gumsan Zamiwon, Dangjin Sinpyeong Brewery, Pyeongchang Bobae Farm, Eoreumchi Village, Imsil Doomari Farm, Daloreum Village). Regional provinces such as Gangwon-do, Chungcheong-do and Jeolla-do may be difficult for individual tourists to travel to as they are geographically farther away from the capital, Seoul. Current KRTS participant Miss Shailing (22, Malaysia) selected Jeollabuk-do's "Imsil Doomari Farm" as the most impressive farming tour site among all the places she has visited. "I once watched such a farm experience through a TV program and had hoped to visit the place personally, but I did not have the chance to do so until I joined this program." She added that "Through this program, I was able to visit Imsil Doomari Farm, experience feeding goats, and even made my own cheese with fresh milk from the goats. The cheese that I had made was absolutely delicious and since then, I was even more excited for what awaits me in the next rural village field trip!"
Current KRTS participant Miss Lim Bing-ok (23, China) said she realized the true worth of visiting Korea farm villages through the program. "Through various Korean variety shows such as 'Dad! Where Are We Going?' and 'The Return of Superman' that are very popular among Asian countries, I was very interested in Korea's farming culture as it looks really fun and exciting. It was a fantastic moment when I was able to pick strawberries directly from the farm, taste and produce my own strawberry jam all thanks to the KRTS program! I was happy to post reviews and promote these precious experiences that I used to only see on TV programs onto my own social media channel!" Furthermore, Miss Lim added, "I feel like anyone can enjoy these rural activities experience and I am more than happy to share my personal reviews and information about Korean agritourism to my friends back home so that they can come and enjoy what I had experienced!"
The supporters are preparing to embark on the last 2 field trips this coming September. The destinations include Obok Village & Andeok Village in Wanju, Jeollabuk-do and Baekdam Village & Haedam Village in Gangwon-do. These field trips will include red clay sudatorium, natural dyeing, rafting and other interesting rural activities that will provide opportunities to all to feel the traditional Korean culture and a revitalizing pure natural environment.
Particularly in recent years, several Korean TV programs featured various rural farming activities such as picking of fruits, traditional Korean culture and nature experiences. Thanks to these features on the mass media, the global community is gradually showing great interest on Korea's rural villages. Check out the official YouTube channel of KRTS for the videos of the field trips if you wish to feel the beauty of Korea agricultural villages(
https://www.youtube.com/channel/UCMXUv0a_UjzDLiSx-4wIfyg
).
You can also find additional information about Korea agritourism on the official Korea agritourism social media channels:
Facebook:
https://www.facebook.com/ruralkorea.en
.
Furthermore, the Korea Rural Community Corporation is operating free rural tour shuttle buses, so check out the website (
http://exploreruralkorea.com
) if you have any plans to travel to one of these Korean rural villages.
Contact
EC21
Hyerim Kim
+82-2-6000-4463
www.ec21.com/

Contact