Immersive Role-Playing Fitness Game, MarchQuest for iPhone, Now Available on the App Store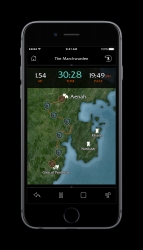 Cincinnati, OH, August 31, 2016 --(
PR.com
)-- Loreful, Cincinnati-based independent game development studio, today released MarchQuest, their immersive role-playing fitness title that places the player as the hero in a fantasy adventure while walking, hiking or running. The game is now available for download worldwide on the Apple App Store.
With MarchQuest, every real world step the player takes unlocks immersive story and gameplay on their iPhone. MarchQuest's unique design integrates storytelling with a role-playing game experience complete with animated 3D characters, Triple-A quality voice-over and choices that matter. MarchQuest also tracks and gamifies fitness through distance, time, pace, steps and calories burnt.
"Welcome to Vale" – It's All About Story
MarchQuest's story is set in the fantasy world of Vale where the player takes on the mantle of "The Marchwarden," a mythic hero called from Earth. However, the foreign world the player enters is one plagued by civil war. To become that Hero, the player must traverse the lands of Vale in their struggle to unite and win the hearts of the people or see the world of Vale fall to ruin.
Along the player's journey they will meet an intriguing cast of fully rendered, lifelike characters and companions who join them on their quest. Each Quest begins and ends with an RPG-style dialogue sequence where the player's choices shape the story. The player's deeds will be noticed!
"With MarchQuest, we've designed an experience that works for every player," said Aharon Cagle, Creative Director and Founder at Loreful. "Whether you are just getting back into daily walking or are already an avid runner, MarchQuest works at your pace and activity level."
MarchQuest is exclusively available for iPhone on the App Store today.
Key Facts and Figures
Costs $4.99
Season 1 consists of 20 Quests (or Workouts) that last between 30 and 60 minutes.
Allows players to listen to their own playlists or prefered music app while questing.
Apple Watch and Android support will be launching in 2017.
For more information about MarchQuest visit http://www.marchquest.com. For further enquiries, email pr(at)loreful(dot)com or call (513) 375-4691.
Assets can be downloaded from http://marchquest.com/presskit
About Loreful
Loreful creates immersive storytelling experiences that combine the digital and physical world. Founded in 2012, by award-winning Creative Director Aharon Cagle, Loreful is an independent game development and entertainment studio based in Cincinnati, Ohio. Find out more at http://www.loreful.com.
Contact
Loreful
Aharon Cagle
513-375-4691
www.loreful.com

Contact