Wallace Hardware Named Wholesale Distributor by DuraLife™ Decking and Railing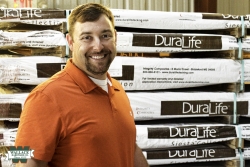 Biddeford, ME, September 13, 2016 --(
PR.com
)-- Wallace Hardware Company, a leading supplier of lumber and building materials (LBM), has joined with DuraLife™ Decking & Railing Systems to provide hundreds of lumberyard customers with "the quick and steady supply" of DuraLife's long-lasting and beautiful composite decking solutions. This includes hundreds of retail outlets based across 13 states and within a 250-mile radius of Wallace's Morristown, Tennessee headquarters.
"We are looking to DuraLife to foster the next stage of our growth," says Brian Cain, Wallace Hardware's LBM manager. "Our goal is to become the market's premier supplier of high-quality materials. DuraLife's decking and railing products are among the finest available today. Their long-lasting durability and beauty coupled with the ability to purchase up to eight colors in multiple patterns makes them the ideal choice for our dealer customers. DuraLife also fits nicely into our value-added selling initiative that emphasizes business growth and the expansion of relationships with products that truly stand out from competitive lines."
"Wallace Hardware is a highly-respected distributor with a 100-year-old history of meeting market needs with quality materials," says Jim Poulin, the national sales manager for DuraLife Decking and Railing. "We are proud to work with them to supply their customers with decking, railing and related products proven to outperform other forms of wood and composite decking."
DuraLife specializes in durable decking & railing systems that blend color and performance with value. This includes supporting each decking profile with a wide array of color schemes, finishes and pricing that "ultimately makes sense to the end user."
In addition, DuraLife's low-maintenance polypropylene and hardwood composite decking is recognized for its high resistance to spills, staining, fading, mold and mildew, while retaining a vibrant finish over time. Each deck board is also designed to minimize sagging and flex between joints as well as improve overall aesthetics and structural integrity.
To further support its sales and distributor base, DuraLife offers free samples of its entire eco-friendly product line to consumers so the desired results are achieved every time.
Wallace Hardware (www.wallacehardware.com) can be reached at 800-776-0976.
For more information on DuraLife Decking & Railing Systems please visit www.duralifedecking.com or call 800-866-8101. DuralLife will also be exhibiting at Wallace Hardware's 2016 Fall Dealer Market at the LeConte Center in Pigeon Forge, Tennessee (October 12th -14th).
About DuraLife™ Decking and Railing
DuraLife™ brand products are manufactured by Integrity Composites, LLC a leading supplier of composite decking, railing, and dock planks. The company operates a 100,000 square foot manufacturing and warehouse facility in Biddeford, Maine and its products are sold throughout the U.S. and internationally.
Contact
DuraLife Decking & Railing
Mike Descoteaux
207-571-0775

Contact