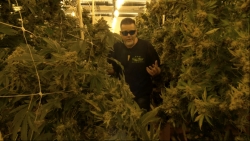 Vancouver, Canada, September 17, 2016 --(
PR.com
)-- Imagine buds bigger than a man's head on cannabis plants as tall as trees in a building the size of a football field. Sounds like a grower's dream come true, but is it all that possible? In a new series about growing cannabis called Growing Exposed, Jason Wilcox, a guest garden tour guide for the show, walks up a ladder to see over a forest of ten-foot-tall marijuana plants, revealing buds the size of two-litre bottles.
"I've never seen such an amazing facility and plants together," said Jason Wilcox, founder-director of the Cannabis in Canada Society, a community organization that provides a forum for like-minded medical cannabis patients. It was Wilcox that led the charge and was recently successful in the fight against the government that allowed growers to keep the right to grow their own cannabis for medical use. If anyone should know if this facility is something to behold, it is him.
Wilcox goes on to explain the formula the facility uses is from a plant nutrient company from Surrey, BC: Green Planet Nutrients. The system, called GP3, was created through years of scientific research looking for better and more efficient ways to grow at home in hydroponics systems, soilless growing mediums, and in soil. "We are inspired by nature and backed by science at Green Planet Nutrients," says owner Justin Cooper.
"It's an amazing product. This particular grower is running a hydroponics system and the results are phenomenal. You've got your bloom, your veg, your micro," explains Wilcox. It is referred to as a 3 part nutrient because all are used simultaneously depending on life stage of the plant.
The football-field-sized facility is also equipped with a ton high-tech equipment to sustain the grow-op. This is the second episode of Growing Exposed, which features this incredible garden, and is set to premier this Saturday, September 17th, at the official Lift Cannabis Expo Afterparty in Vancouver. If you do not have the invite for the industry only party you can watch it online at
www.growingexposed.com
. Lift is a conference that makes exploring, purchasing, and consuming medical marijuana easier for Canadians. The Lift Conference is taking place at the Vancouver Convention Centre both Saturday and Sunday. (Sept 17,18 2016)