New Podcast "The Caddyshack Minute" Now Available on iTunes and Google Play
The Caddyshack Minute podcast reviews the film Caddyshack one minute at a time.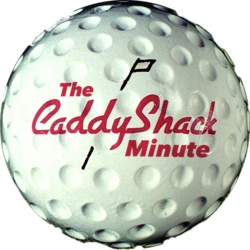 Chicago, IL, September 19, 2016 --(
PR.com
)-- The Caddyshack Minute, (http://www.caddyshackminute.com), a podcast that discusses the film Caddyshack one minute at a time, has just been released and is available to listeners for subscription on iTunes, Google Play, and the Stitcher app. On each weekly episode, the three hosts, Tom Taylor, Michael DiMaria, and Daniel Lewis, discuss one minute of Caddyshack for anywhere from 20 to 50 minutes. The freeform discussions aim to dissect the flaws and triumphs of this classic film, though conversation often drifts to the hosts' history with country clubs, loves and hates of pop culture, how to properly wear ties, and how not to die from a cold.
The most recent episode featured the hosts discussing Danny Noonan and Ty Webb walking across a golf course, though most of their conversation dealt with their daily pastimes as kids around 1980 when Caddyshack was released.
Podcast host Tom Taylor says, "We were inspired by The Star Wars Minute podcast to apply that brilliant format to one of the most flawed yet perfect movies of all time."
Fans of the podcast can contact the hosts via email at contact@caddyshackminute.com or join their Facebook group The Caddyshack Minute Listeners' Hole.
To listen to the podcast, find it on the podcatcher of your choice, or visit http://www.caddyshackminute.com. Fans can also follow he show on Twitter @caddyshackmin and on Facebook @caddyshackminute.
Contact
Tom Taylor
203 856 0068
www.caddyshackminute.com

Contact