ESD Guns First Distributor with EM Test NX30 ESD Simulator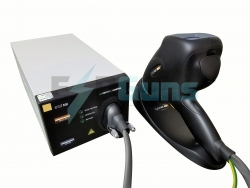 Roseville, CA, September 27, 2016 --(
PR.com
)-- The future of electrostatic immunity testing is now available at ESD Guns, LLC, the number one distributor of ESD immunity and compliance equipment. Electrostatic discharge (ESD) testing is fundamental in obtaining UL and CE compliance marks for electronic products from smart phones, guitars to automobiles and satellites. The pesky shock we are familiar with when touching a door handle is a common occurrence that can cause hard resets and software bugs in any electronic product if not considered and tested for during product development.
The newest ESD simulator to market, EM Test's NX30, is the first developed under Ametek CTS with collaboration of both Teseq and EM Test engineers and product developers. Using the platform of Teseq's NSG 438 flagship ESD simulator system, the NX30 brings state of the art user interface and hardware to make electrostatic immunity testing efficient and easy.
A wide assortment of easily interchangeable networks with different Resistance and Capacitance values will allow user to meet virtually any test standard related to electrostatic discharge. The NX30 has a unique built in charge removing feature, allowing for users to program and bleed excess voltage from their product during test, a feature that will be useful for testing to MIL-STD 4612G CS118, a new ESD immunity standard for military electronics.
ESD Guns, LLC has just received the first EM Test NX30 ESD simulators off the production line and has them available for rental or purchase at esdguns.com. In depth information is also available including PDF manuals and video overviews.
About ESD Guns, LLC
ESD Guns is a distributor and manufacturer of electrostatic discharge testing equipment, accessories and hardware for ESD compliance to international standards IEC 61000-4-2, ISO 10605, RTCA/DO-160, Mil-STD-461G CS 118 and more. ESDGuns.com website offers a side-by-side comparison tool, online ordering including rentals, processing of RMA's and account history. It is the only company in the world solely focused on ESD testing.
Contact
ESDGuns.com
Beatriz Munoz
800.794.0349
www.esdguns.com

Contact