Jamm Products Announces Release of Innovative Hands-Free Door Handle; An Effective Precaution Against Spread of Many Infections
Infections are spread from door handles, especially when one in three people do not wash their hands after using the restroom. Jamm Products recently announced the launch of their new potential solution to this problem - the Hands-Free Door Handle, expertly designed to minimize the risk of bacteria and infection.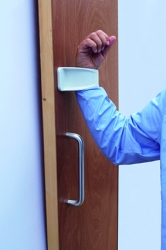 Scottsdale, AZ, October 03, 2016 --(
PR.com
)-- Experts agree, infection and bacteria are spread by people touching surfaces that are later touched by others, causing a chain of events that can end in many people becoming ill, with a real economic impact to employers both large and small. In fact, Circadian's Shiftwork Practice 2005, goes as far as to say, "Unscheduled absenteeism is a chronic problem for U.S employers, conservatively costing $3,600 per hourly employee and $2,650 per salaried employee per year." The door handle is often found to be the culprit in these kind of situations, with the Center for Disease Control making clear 80% of all infections are spread by the hands, in a recent statement. Fortunately, the innovative minds at Jamm Products have addressed this serious issue and have launched a timely solution, the Hands-Free Door Handle. The Hands-Free Door Handle allows a user to open a door with their forearm or wrist, two parts of the body unlikely to then touch their face and allow an infection to spread. The affordable, easy to install and simple to use product has been met with enthusiasm in many workplaces.
"The Hands-free Door Handle allows you to open an unlatched door using your wrist or forearm - this keeps your hands away from any infections (bacterial, fungal, yeast, viral) that are present," commented Marc Ward, Managing Director of Jamm Products. "So once you've washed and dried your hands you don't collect fresh germs on your way out of the restroom. With our handle, clean hands stay clean."
As an added precaution the Hands-Free Door Handle contains silver ions shown to reduce bacteria levels by 99.93%. It is also strength tested and certified for safe use in any building – from football stadiums all the way to preschools.
The handle is available in Ivory White and Nordic Blue through www.jammproducts.com and
www.jamm-northamerica.com
and has its North America launch at the IFMA World Workplace Expo in San Diego, CA October 5th - 7th.
Early feedback from users has been very positive.
Helen C., from Birmingham, recently said, "This was a very considerate thing for our managers to put in for our use. People getting sick is always an issue at our call center and it certainly has seemed to drop thanks to the Hands-Free Door Handle from Jamm Products. Five stars and fully recommended."
The product is currently "on test" at The Royal Cornwall Hospital Treliske in the UK where Chief Pharmacist Iain Davidson is evaluating them against existing door handle, early feedback is very encouraging and a review is expected from the well regarded medical professional shortly.
For more information be sure to visit http://www.jammproducts.com
Contact
Snap To It, Inc.
Kate Schumann
602-923-0575
jamm-northamerica.com

Contact