RightBio Metrics to Host a Thought-Leader Forum on Improving the Safety of NG Tube Placement at NANN (National Association of Neonatal Nurses) in Palm Springs, CA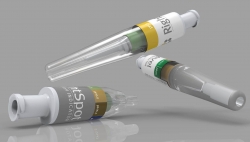 Phoenix, AZ, September 30, 2016 --(
PR.com
)-- RightBio Metrics to host a thought-leader forum on Improving the Safety of NG tube Placement at NANN (National Association of Neonatal Nurses) in Palm Springs, CA
RightBioMetrics.com
Considered a "never-event" in the United Kingdom (UK) and gaining increasing attention from US healthcare providers, the misplacement rate of NG (nasogastric) tubes which are intended to end in the stomach to deliver life-saving nutrition and medications are frequently not in the right spot. The AACN (American Association of Critical Care Nurses) and CHA (Children's Hospital Association) are two of the US organizations calling for the immediate discontinuation of auscultation, an archaic technique yet still widely used in the US to confirm stomach placement and are suggesting the use of pH as one of the metrics. Validating correct placement with pH is the standard of care in the UK and is emerging as such in the US. Published research states that up to 56% of blindly placed NG tubes intended for the stomach do not end in the stomach and their mis-placement can contribute to morbidity and mortality (Quandt. J Pediatr Gastroenterol Nutr. 2009).
At this year's NANN meeting in Palm Springs, CA RightBio Metrics will host a thought-leader forum focusing on bringing awareness to the high prevalence of misplaced tubes and use of their RightSpotInfant and RightLevel to improve the accuracy of placement. NICU babies are considered to be the most vulnerable to misplaced tubes because their stomachs are so close to their lungs. Contrary to popular belief, recent published studies have shown that neonate's stomachs are acidified and it is possible to obtain fluids (aspirate) to test pH.
Speakers will include Beth Lyman who leads NOVEL (new opportunities for verification of enteral tube location) and NICU (neonatal intensive care unit) leadership from the University of Kentucky who have worked with the RightSpotInfant, one of RightBio Metrics pH indicators. "We are excited to offer the market the only fully enclosed, FDA cleared, CLIA waived pH indicators that can be used for adults, pediatrics and NICU for confirming gastric acidity for placement of NG tubes intended for the stomach," states Dr. Paul Gilbert company founder/Chief Medical Officer. "No one should ever suffer an injury or die because a NG tube is not properly placed."
RightBio Metrics is a Phoenix, AZ medical device company whose mission is to eliminate any harm caused by mis-placed NG tubes.
Contact
RightBio Metrics
Paul Gilbert
480-466-0041
rightbiometrics.com
info@rightbiometrics.com

Contact