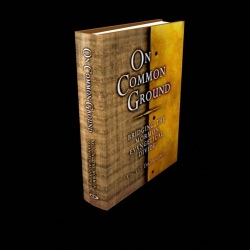 Raleigh, NC, January 24, 2008 --(
PR.com
)-- Celestine Publishing, LLC announced the release of On Common Ground: Bridging the Mormon-Evangelical Divide. This book introduces a new approach to help bridge what has been termed a divide between Later-day Saint and Christian beliefs. On Common Ground is intended to foster a new level of understanding and acceptance among all Christian religions.
On Common Ground author, Vincent DiGirolamo asserts, "All Mormons, Evangelicals, Catholics, Baptists, Lutherans, Episcopalians, Presbyterians, Methodists and many other traditional, non-traditional, orthodox religions who believe in Christ are Christians.
"Why? Because their fundamental belief in Christ and their practice of moral principles, values, and gospel tenets, gives them hope in the promise of salvation through Christ, a personal witness of His grace, and experience in His ways.
"The common ground is the beliefs, principles and values they share, not in the way that they are interpreted or practiced, nor their origins, but in the manifestation of the fruits they bear and the manner of men they become through living those principles which are true."
On Common Ground has it roots in the Principles with Promise series which catalogs thousands of doctrines, values, and teachings found in the scriptures, both biblical and non-biblical text, held as holy writ from various religions. With this, the author takes a new and refreshing, principled-centered approach by listing more than two thousand principles he feels are the shared beliefs of Latter-day Saints and the rest of the Christian world.
When its author was asked how this book might be received by Evangelical Christians, he responded, "I hope people of all faiths will consider the experiment I have suggested in the book and judge each principle on its own merit as either true or false, one they can accept or one they can not The true principles that remain define the common ground between Latter-day Saints and their Christian neighbors. And I know from experience that there is significantly more than what has been portrayed in the press these days."
DiGirolamo further explained that On Common Ground not only provides an overwhelming number of principles to consider, he relates several personal stories to illustrate how his experience with gospel principles parallels Christian beliefs; another effort to bridge the so called divide. Celestine Publishing is a non-denominational company with editors from a variety of religious backgrounds.
"Surely, there must be common ground between people of all faiths. We just need to find it by first seeking to understand what principles our neighbors hold to be true, and with that knowledge, build the trust and relationships in our communities to do the good God intended us to do. Let's start there," concluded DiGirolamo.
###