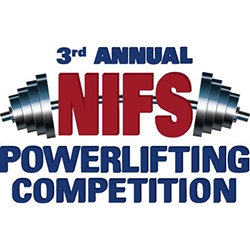 Indianapolis, IN, October 12, 2016 --(
PR.com
)-- The National Institute for Fitness and Sport (NIFS) will be hosting its 3rd annual, non-sanctioned Powerlifting Competition on Saturday, November 12, 2016. Competition begins promptly at 9:00 a.m. and is limited to 70 participants (35 female and 35 male). Athletes will be categorized by gender and body weight.
The competition will be comprised of 3 different lifts including Squat, Bench and Dead Lift. Competitors will be allowed three attempts at each of these three lifts. The best lift from each discipline will be added together to serve as the competitor's total. Registration is now open for this event. Forms are available at
www.nifs.org/nifs-powerlifting-competition
. Online registration is also available at getmeregistered.com.
"This was my first powerlifting meet, and I was a little nervous coming in not really knowing what to expect, however, everyone was very nice including the staff running the event and the competitors that were competing," said Bailey, a previous participant. "It was an amazing atmosphere with lots of spectators and everyone cheering you on every single lift," Bailey said.
For more information on this event visit www.nifs.org under programs or contact the Tony Maloney at 317-274-3432.
National Institute for Fitness and Sport is a non-profit organization committed to enhancing human health, physical fitness and athletic performance through research, education and service.
NIFS media contact: Trudy Coler (317) 274-3432, email tcoler@nifs.org.