Proposed RAISE Act Would Help Families Pay for Healthcare Costs
American Association of Orthodontists urges support for bill that would boost limits on Flexible Spending Accounts.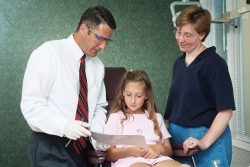 St. Louis, MO, October 19, 2016 --(
PR.com
)-- An important bill now working its way through Congress could help consumers save on healthcare by significantly increasing the benefits allowed under Flexible Spending Account (FSA) plans. Millions of Americans utilize FSAs through their employers. These accounts are funded with employees' pre-tax dol-lars, and they are an efficient way for consumers to save money when paying for out-of-pocket healthcare expenses generally not covered by insurance. FSA funds can be used for co-pays, deductibles, prescrip-tion drugs, vision care, hearing aids, medical equipment, and dental services, including orthodontic treatment.
Under the Affordable Care Act, cuts to the FSA benefit program have substantially curtailed the tax-saving benefits of the plan.
Members of the United States Senate have recently joined the House of Representatives in support of the non-partisan bill called The Responsible Additions and Increases to Sustain Employee (RAISE) Health Benefits Act of 2015 (H.R. 1185 and S.3242). The bill is a viable solution to the current inadequacies of FSAs. The RAISE Act would provide enhanced opportunities for American families to better manage their healthcare costs, while also allowing them to save for future medical expenses.
Under the current FSA guidelines, individuals can set aside $2,550 per year with a $500 rollover of unused funds into the following year. This amount is often insufficient to cover 12 months of most families' out-of-pocket healthcare expenses, putting them in the unfortunate position to have to choose which medical treatments they can or can-not afford for their family during the coverage year. According to Forbes Magazine(1), the
U.S. Centers for Medicaid and Medicare
report the National Healthcare Expenditure (NHE) 2015 looks to be the first year healthcare spending will reach $10,000 per person. With deductibles skyrocketing, consumers will bear the brunt of these rising costs. For 2015-2025, health spending is projected to grow at an average rate of 5.8 percent per year (4.8 percent on a per capita basis).
"Family healthcare costs could be many times the amount a family is allowed to set aside," says DeWayne B. McCamish, DDS, MS and president of the AAO. "Our laws need to keep pace with the reality."
The RAISE Act (H.R. 1185 and S.3242) is a practicable solution to the current inadequacies of FSAs, and it needs more support to pass and become law. The RAISE Act would provide opportunities for American families to better manage their healthcare costs, while also allowing them to save for future medical expenses.
The proposed RAISE Act (
https://www.congress.gov/bill/114th-congress/house-bill/1185/text
) calls for:
1. Increasing the annual contribution cap to $5,000;
2. Adding another $500 for each dependent above two dependents; and,
3. Terminating the "use-it-or-lose-it" rule so that any leftover FSA funds at year's end can be rolled over without penalty.
"Many families, including about one in four orthodontic patients, rely on their Flexible Spending Accounts to help pay for services not fully covered by insurance," according to Dr. McCamish. "As out-of-pocket expenses go up and insurance benefits go down, FSAs are one of the few ways available to consumers to keep up with their costs for care. This is an important resource to cover co-payments, deductibles and other healthcare outlays."
The RAISE Act (H.R. 1185 and S.3242) was first introduced to the House Ways and Means Committee by Reps. Steve Stivers (R-OH) and Michelle Lujan Grisham (D-NM) on February 27, 2015; and introduced in the U.S. Senate (S.3242) July 14th of this year by Sen. Kelly Ayotte (R-NH), now joined by Senator Roy Blunt (R- MO). The bill has received bipartisan support and currently has nearly 80 sponsors. The AAO plans to work with the Organized Dentistry Coalition to continue to build a robust list of supporters to work toward the bill's passage in both houses of Congress so that American families can better manage their costs for healthcare.
With lawmakers going back into session, now is the time to push elected officials to make these needed enhancements to FSAs. "We are encouraging our patients, friends and families to contact their members of Congress," says Dr. McCamish.
The AAO has made it easy to support the bill by clicking through to their website. Visit
mylifemysmile.org
and click on "Support FSA In-crease" in the left column. The page links to names of current sponsors of the bill in the House and the Senate, provides links to locate contact information for Representatives and Senators, and includes suggested letters to send to members of Congress in support of the legislation.
"Now is the time to make our voices heard," says Dr. McCamish. "I recently had the opportunity to visit more than 20 Senators and Representatives in Washington, D.C. Based on that experience, I believe that personal contact is the key to passing this needed legislation."
(1) U.S. Healthcare Spending On Track to Hit $10,000 Per Person This Year
http://www.forbes.com/sites/danmunro/2015/01/04/u-s-healthcare-spending-on-track-to-hit-10000-per-person-this-year/#2a18f5a8294c
About the American Association of Orthodontists
Members of the American Association of Orthodontists (AAO) help children, teenagers and adults achieve healthy, beautiful smiles.
Orthodontists are uniquely qualified specialists who diagnose, prevent and treat dental and facial irregularities to correctly align teeth and jaws. Orthodontists receive an additional two to three academic years of specialized education beyond dental school at an accredited orthodontic residency program.
Founded in 1900, the AAO is the world's oldest and largest dental specialty organization. It represents more than 18,000 orthodontist members throughout the United States, Canada and abroad. The AAO encourages and sponsors key research to enable its members to provide the highest quality of care to patients, and is committed to educating the public about the need for, and benefits of, orthodontic treatment.
Only orthodontists qualify for AAO membership. For more information, and to find AAO-member orthodontists near you, visit mylifemysmile.org.
Contact
Visintine & Ryan
Priscilla Visintine
314-422-5646
visintineandryan.com
Pam Paladin
American Assn. of Orthodontists
(314) 993-1700, ext. 524
ppaladin@aaortho.org

Janet Ryan
Visintine & Ryan
(314) 822-8860
janet@visintineandryan.com

Contact