Elliot Ricci's "Comin' Out of the Bushes" is a Political Parody Spanning Two Presidential Elections. This Song is About Character Flaws in Certain Candidates.
Comin' out of the Bushes is a political parody song and video that reminds us to vote with our conscience. The clever lyrics remind us that "character" does matter when you want to hold the most powerful position in the U.S. Elliot Ricci is a singer/songwriter who is a self-taught piano player. In Comin' Out of the Bushes, Elliot is being silly and playful, bringing light to a serious subject. But in his usual, fabulous performances audience members constantly tell him, "You should be in Vegas!"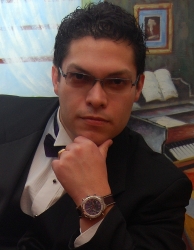 Tiverton, RI, October 29, 2016 --(
PR.com
)--
Elliot "Rockin" Ricci
wrote
"Comin' Out of the Bushes"
as a politically motivated song spanning presidential elections from 2008 to today. Taking some poetic license, Ricci wrote entertaining and compelling political lyrics to this funky beat. Ricci's song reminds us how important character is when you want to occupy the most powerful position in the country. Ricci hopes that his song will motive people to vote their conscience.
A self-taught piano player, Ricci was most influenced by Jerry Lee Lewis after seeing the movie "Great Balls of Fire." Ricci is a professional piano player and song writer. A featured performer at the International Boat Show in Newport RI and a featured performer on AMC Network's Showville, Elliot enjoys performing for residents in Alzheimer and Dementia residences; it is remarkable to see how people who are essentially non-verbal will sing all the lyrics to songs he plays from the era when they were teens. Ricci puts on a great performance with his Rock-a-Billy, Rock 'n Roll piano music. You can find Elliot Ricci's music available at www.amazon.com where he has several original recordings available for streaming or download.
Elliot Ricci has an interesting life story. Ricci discovered he was adopted in a high school biology class learning about genetics. The teacher said, "If your mother has blue eyes and your father has blue eyes, then you, very likely, should have blue eyes." Elliot realized at that moment that his very deep, dark brown eyes just gave away a well kept family secret. That night he learned of his adoption as an infant by his aunt and uncle, something that he is very grateful for as he adores his parents. Elliot wrote a short book about his adoption story by relating it to his adopted rescue dog, Tex. This charming little book, titled "The Adventures of Tex and Elion" is written and illustrated by Elliot Ricci and is available at www.blurb.com.
Elliot Ricci lives in Rhode Island with his wife, Myra, their rescue dog Tex and many other pets.
Contact
Elliot Rockin Ricci
Myra Ellen Edelstein
401-862-2430
elliotricci.com

Contact
Multimedia
This Elliot Ricci original song, "Comin' Out of the Bushes" is a political parody set to a funky beat. The song is a reminder that it takes strong positive character and a positive message when you want to occupy the most powerful position in the world. This song is about voting your conscience.