Complement Home Surveillance Systems with Meshtec Security Windows & Doors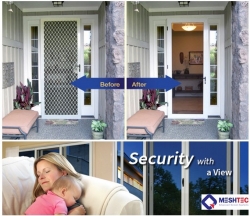 Lakeland, FL, November 02, 2016 --(
PR.com
)-- According to the FBI in 2015 there were over 1,500,000 reported home burglaries in the U.S. Even more than that was over 7,500,000 reported cases of property crime. On average each home suffered $2,300 in losses resulting in over $3.6 billion in property damages total. The most worrisome statistic is that only 13.6% of these crimes resulted in arrests.
Surveillance technology does work well in many instances but fails to physically keep intruders out. There are many instances as people watch remotely as armed burglars are caught on camera breaking into their homes. One instance earlier this year in August (2016) an armed gunman in Atlanta robbed multiple homes while one of the home owner's was still inside.
Most thieves will only spend a couple seconds trying to get inside. If they find that a door or window takes too long they'll simply move on to the next target. Unfortunately most doors and windows installed today are not truly burglar safe and only take a couple seconds to be compromised and the burglary only takes a matter of minutes.
As we can see a major problem with these homes is that despite having a camera they were still burglarized. The crime itself is still committed and even if the thieves were brought to justice the damage had already been done.
With society's increasing reliance on technology and the internet of things we have created this false sense of security around our homes and have forgotten that the best way to keep intruders out is by physically stopping them from getting in. A lot of the traditional options for this type of security however can leave homes feeling very uncomfortable with steel bars and plates covering the windows and doors.
Fortunately there is an option to help increase home security without making your home feel like a prison. Meshtec manufactures High Tensile Steel Mesh which looks like a regular screen but is tough enough to withstand the force of a baseball bat and the full impact of the body weight of an adult male.
The security applications of this mesh is great as it can be made to fit any design or need as it keeps all intruders including mosquitoes and other pests out. A revolutionary product meaning no need for visually unattractive bars or Grilles, Meshtec systems are used in a vast number of residential and commercial properties. Meshtec Mesh is not only superior in strength but has superior corrosion resistance.
The installation of proper security windows and doors along with home security systems helps keep homes more secure. If the thieves can't break in they won't be able to commit any crimes giving home owners true peace of mind.
About Meshtec Advanced Screen System
Meshtec is a world-class designer and manufacturer of security screen systems suited for doors and windows, barrier screens and balustrade fencing systems. Meshtec exclusively uses high tensile stainless steel wire to weave and manufacture screen mesh, creating a product that is resistant to corrosion, allows for visibility and is a barrier to forced entry. Meshtec is privately owned and headquartered in Thailand, with offices, dealerships and licensed distributors in Australia, Africa, Canada, Caribbean, China, Croatia, India, Japan, Malaysia, New Zealand, Philippines, Thailand and the United States.
Find out more about Meshtec, please visit
www.meshtec.com
Contact
Meshtec International Co., Ltd
Kanyaporn Sangthavorn
+66 (0)53 963 284
meshtec.com

Contact
Multimedia
Complement Home Surveillance Systems with Meshtec Security Windows & Doors