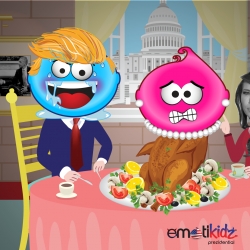 Washington, DC, November 23, 2016 --(
PR.com
)-- On November 8, 2016, ck socialmedia released a new
emotikidz
® sticker pack for the presidential election season. The emoticons feature Donald Trump and Hillary Clinton in often hilarious situations.
To poke fun at Hillary's email scandal, there is an emoticon featuring her behind bars. As an homage to The Donald's famous hairdo, there's an emoticon showing his hair blowing away in the wind. These are just a few of over 100 hilarious emoticons in this new collection. Other options include "anger management issues" and "you're fired" emoticons.
Even though the presidential election has come and gone, it is unlikely that people will stop talking about it any time soon, and these emoticons will be highly topical for the foreseeable future. Even for those who aren't particularly interested in politics, the emoticons are still hilarious and will keep users and their friends laughing for hours.
The app will be free on on the 24th November 2016 for all to enjoy to celebrate Thanksgiving Day.
The emotikidz® app is available on the iTunes app store for a price of $2.99. It is compatible with any iPhone, iPad or iPod running iOS 10.0 or later. At the time of this release, the presidential emoticons can only be used in iMessages, allowing users to present their opinions in visual form.
Users must be at least 17 years old to download the app since they feature mild profanity and crude humor.
In addition to this latest release of comical stickers, users can follow emotikidz® on Facebook or Twitter to keep track of updates as more comical emoticon stickers are released.