Marine Law Symposium Announced
Expert witness training for the boating industry.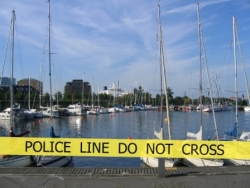 Annapolis, MD, November 11, 2016 --(
PR.com
)-- The American Boat & Yacht Council (ABYC) has announced the 2017 Marine Law Symposium, Jan. 10, 2017, in Charleston, South Carolina. The training event will cover the roles and expectations of an expert witness and will provide attendees with tactics, tips and tools of the trade when preparing for trial.
Expert witnesses, manufacturers, surveyors, insurance personnel, underwriters, compliance professionals and others in the marine industry will learn from various speakers who specialize in marine law and product liability.
Christina Paul, a partner at K&L Gates and one of the event speakers, will share inside knowledge and real world examples. "Having a well-credentialed and experienced expert is only part of the equation," said Paul. "It is equally important that the expert can withstand the scrutiny of cross-examination and navigate the pitfalls of deposition."
The keynote speaker for the event will be Under Armour Senior Counsel, Margaret Watkins. With a dominant and rapidly growing brand to protect, Watkins will provide a unique perspective on product safety and compliance.
Breakout sessions will be held in the afternoon with custom content depending on attendee interests.
Manufacturer Track:
-Product liability and you – Dave Marlow, Brunswick Corporation
-Designing a reasonably safe product - Marcia Kull , Volvo Penta
-When the customer sues – Christina Paul, K&L Gates LLP
Expert Witness Track:
-Representing yourself - William Daley, CED Technologies
-How clients prepare and use experts – Dr. Wendy Sanders, Design Research Engineering Inc.
-The role of an expert witness – Caroline Plater, Reed Smith LLP
Choosing an Expert Witness Track:
-Match the expert to the claim – Gavin O'Hare, CED Technologies
-After the investigation – Ricard Basom, S-E-A Limited
-How I will discredit your expert – David Rammelt, Reed Smith LLP
"If you are a boat builder in the United States, you can't miss this event," said Brunswick Corporation Director Product Integrity/Government Affairs Dave Marlow. "From designing a reasonably safe product to handling the customer interface when things don't go as planned, this continuing education opportunity is a valuable tool for your organization."
To learn more and register visit:
www.abycinc.org/onthestand
. Registered attendees are invited to ABYC's annual meeting and cocktail reception Jan. 9, from 6 p.m.-8:30 p.m.
Contact
ABYC
Shannon Seipp
410-990-4460 x105
www.abycinc.org

Contact