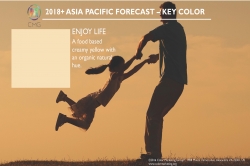 Albuquerque, NM, November 13, 2016 --(
PR.com
)-- Color Marketing Group, the leading international association of color design professionals, introduced the organizations' forecasted key colors today at the 2016 International Summit in Albuquerque, New Mexico.
An aptly named hue, Enjoy Life, the Color Marketing Group 2018+ Asia/Pacific Key Color, is a yellow imbued with its own life-force.
Soft and quiet, with the slightest hint of red, Enjoy Life suggests the first light of the morning sun. Its fresh nature reminds us to take a moment in the light, enjoy a repast, and bask in the warmth. It is creamy and organic, suggesting luscious foods that sustain us and bring us joy.
With an initial appearance of near-white, Enjoy Life teases and intrigues the eye with its true color. From stationery to cookware, kitchen design to home furnishings, it is a garden-fresh approach to color that is as successful as a textile as it is a lacquered teakettle. Rooms will glow with its subtle color, and in fashion it is a color that complements many complexions.
Live with a color that embraces the promise to Enjoy Life.
About Color Marketing Group
Color Marketing Group, founded in 1962, is a not‐for‐profit international association of color design experts who forecast color directions®. Color forecasting events are held throughout the world and the results from these events become part of the global color forecast which is revealed at the annual International Summit.