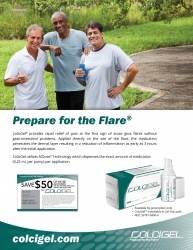 Miami, FL, November 22, 2016 --(
PR.com
)-- Gout – an extremely painful form of inflammatory arthritis affects more than 4 percent of Americans and about 10 percent of men over the age of 60. It is more common in women after menopause. The disease occurs due to an excess of the bodily waste, uric acid. The acid is deposited as needle-like crystals in the joints or in soft tissue. These crystals cause redness, swelling, stiffness and intense pain in the joints which in turn can create gout flares. "Unfortunately gout attacks often occur without warning. This sudden attack is referred to as a 'flare' and will normally subside within 3-10 days but during that timeframe, the pain is excruciating if untreated," said Gary Myerson, M.D., Founding Fellow of the American College of Rheumatology. "The secret to the treatment of the acute gout attack is to be prepared and treat the flare early."
A new transdermal gel has been developed and is now available by prescription only to treat the symptoms of gout attacks. "ColciGel® is a transdermal medication that provides rapid relief of pain at the first sign of acute gout flares without gastrointestinal problems. The medication should be applied directly on the site of the pain," says Robert L. Wilbur, Pharm.D. CPh. "ColciGel® offers gout sufferers, and physicians that treat these patients, an important new option to stay ahead of the horrible pain before it strikes."
Copay assistance and cash pay programs are available to all patients through participating specialty pharmacies. "As a pharmaceutical manufacturer, we have a responsibility to provide access to safe and effective medications. We recognize the need to assist with the financial burden as our duty," said Carlos Alfaras, CEO of Gensco Pharma. "Our corporate focus is to utilize our resources on innovative research and the development of unique delivery systems, and it aligns with our specialty partner's efforts to improve access and the quality of life for patients who suffer from debilitating diseases. The Gensco Specialty Pharmacy distribution partnerships foster the growing need to focus on disease states which our new transdermal ColciGel® serves."
ColciGel® is offered through specialty pharmacies including but not limited to: Apogee Bio-Pharm, Aureus Health Services, BriovaRx, Cardinal Health Specialty, Cigna Health, MagellanRx Pharmacy, ProCare Rx Pharmacy, Restore Rx, Senderra Rx Pharmacy, SMP Pharmacy Solutions, Value Specialty and Walgreens Specialty Pharmacy.
Even though nine out of 10 gout sufferers say gout has affected their daily lives, one in five isn't doing anything at all to treat the disease – and only 10 percent of gout sufferers are getting needed treatment. If you are suffering from gout, learn more by speaking with your doctor or visiting www.gouteducation.org. For more information on ColciGel®, visit www.colcigel.com.
About Gensco Pharma: Gensco Pharma is a specialty pharmaceutical company focusing on research, development and marketing of transdermal prescription products. As an innovator of pharmaceutical products and the development of patented drug delivery systems, Gensco is dedicated to the continual pursuit of novel and effective therapies that improve health.