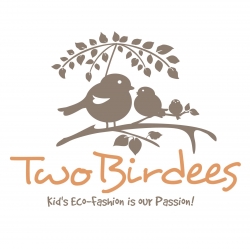 Los Angeles, CA, November 24, 2016 --(
PR.com
)-- Kathy Wen has a lot on her plate. The California-based mother of two is currently planning her family's holiday celebrations while guiding her online children's boutique,
Two Birdees
, through what might be its busiest holiday season yet. She took a moment to talk about the twin learning curves of business ownership and motherhood, and why it is that, in a sea of startup boutiques, her small shop is doing so well. Two Birdees' sales have soared since the store's opening not long ago. It would be easy to boast about success, but Kathy doesn't like to focus on the speed of her business growth.
"I don't necessarily want to remind people how old we are," she said. "When you're young, people judge you based on your age. Other retailers ask me how long ago we opened, and when I tell them they say, 'Oh, I thought you had been here for at least a decade!'"
It's easy to see why. Two Birdees has dozens of 5 star reviews on Google, and most of them rave about her personality and concern for each and every customers. For Kathy, taking time to engage with customers comes naturally.
"I've always been interested in marketing, in the customer service aspect," said Kathy. "I love chatting with people. I love helping people and feeling like we click."
Fast forward to now, when all those chats and positive reviews have led to Kathy pulling all-nighters, even on weekends, to pack and ship all the clothes purchased during Two Birdees' Pre Black Friday sale.
Most online retailers will hold sales events for Black Friday or the increasingly popular Cyber Monday, but Kathy decided to hold her pre-sale from Nov. 9 all the way through Cyber Monday on Nov. 28. It's part of the same philosophy that inspires her customer service: that modern moms don't need to feel any more rushed than they already do.
"As a mom, you'll be faced with all sorts of challenges. My older and younger boy have different health issues. Not really big deals, but totally different problems. So as a mom, you're always scrambling, trying to learn something new," she said.
Two Birdees came about as a result of all the learning Kathy did after her second son developed severe eczema as a newborn.
"I researched to find the best clothing for him, and I learned how dirty traditional cottons are," she explained. "That's when I became really interested in organic cotton. Then I found bamboo fabric, like KicKee Pants is made of, is used by a lot of moms whose kids have eczema."
While she learned about alternative fabrics to keep her son's skin condition in check, Kathy was also looking for stay-at-home work that would put her marketing background to use.
"I really wanted to find something to do I was passionate about. I thought, 'what do I know?'"
The answer was a heart-centered business dedicated to bringing safe, responsibly sourced children's clothing and products to busy moms, so they could skip the time-consuming research and choose the best for their kids in a few mouse clicks or taps of a phone screen.
Virtually every product on the site has been tested by Kathy's own "little birdees," and also endures the trial of her washing machine, so she can give advice on washing each piece based on her own experience.
From all these tests emerged favorite brands that Kathy now shares with others through her shop. In particular, she's had great results with KicKee Pants, a line of eco-friendly pajamas and infant clothes made from viscose bamboo fabric. Kathy favors KicKee Pants for the sustainable material -- bamboo grows fast and requires a fraction of the fertilizer and pesticides needed for cotton -- but also because they don't need to be replaced as often.
"With my first son, I was always rushing to clothing stores because my boy grew out of his onesies and footies so fast, I couldn't catch up!" She laughed. "What I love about KicKee Pants fabric is that it's stretchy, so it's able to accommodate their growth spurts and to offer a couple extra months of wear than other traditional fabrics. And they feel so soft next to my baby's skin!"
For these reasons, KicKee Pants is high on Kathy's list of recommended holiday gifts from the Two Birdees shop. Other top picks are elegant little girl dresses from brands like Isobella & Chloe or Spanish children's clothier Mayoral, to help create the perfect family holiday photo. Kathy sees holidays as a chance for moms to indulge in a few quality items that will create special memories or make life easier for parents and children in the year to come. Sleep sacks from Woolino also fit this bill. The layered Merino wool and organic cotton in these baby sleeping bags are supposed to keep an infant's body temperature in the perfect range for comfortable sleep, with some reviews reporting an increase of 2-3 hours of sleep per night for both parent and child.
"All the moms rave about it. But the fabric quality is top notch, so the price is a little bit higher," said Kathy. "But especially if moms take advantage of our cash back offers, it's a great opportunity to get something that will last for years."
As for her own kids, Kathy says they already have a whole closet full of items carried by her shop, but they will have a few things from KicKee Pants' new ocean themed collection waiting for them on Dec. 25.
"I definitely have a couple pajamas in hammerheads and orcas stashed away to put under the Christmas tree," she said.
Two Birdees' Pre Black Friday Sale is going on now through Cyber Monday, Nov. 28. For more details, visit the website at https://www.TwoBirdees.com.