Kaplan Zuckerman Promoting the Hilariously Inappropriate Film - "Unforgivable Sin"; Elaine at KZ Management Talks to Chloe Traicos the Writer of the Piece
Chloe's journey is one unlike any other...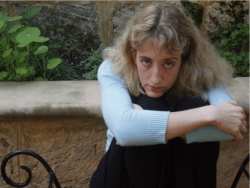 Los Angeles, CA, November 30, 2016 --(
PR.com
)-- Chloe Traicos's story is certainly different from that of the average actor in Hollywood. Unlike most, Chloe is someone who learnt what fear is at a very young age. She grew up in Zimbabwe under the dictatorship of Robert Mugabe. The stories she shares from her childhood are things that we in the USA, cannot even begin to imagine.
"It's amazing how you accept the stress as a fact of life," Chloe says about her childhood. "I used to freak out when we were in the car. The sound of sirens meant Mugabe's motorcade was coming and if you didn't pull over you were shot dead," she said.
Things reached a head for Chloe and her family in the early 2000's when for the first time Robert Mugabe faced opposition from Morgan Tsvangirai, a man who dared to oppose the despot and formed his own party:
Virtually forced to flee her own homeland, Traicos and her family moved to Australia where she went on to make the award winning documentary, "A Stranger in my Homeland" - which is her own story, along with those of other Zimbabwean refugees, all who had to leave their homeland because of their political views. Despite the success of the film, Chloe knew that it meant she would never be able to return to her home country, at least not until the leadership changed.
In Australia, Chloe then went on to make the very successful Australian film "I Wish I Were Stephanie V," which opened the New York Film Festival in 2011 in a special screening outside in Times Square. After securing a green card to the US, Chloe came to Los Angeles to continue her dream of making films.
This latest project, "Unforgivable Sin" is a short movie which she wrote, starred in and directed. It is the story about a serial killer who is offered refuge by an unwitting rabbi and his clueless, although strangely seductive wife (played by Traicos). Very much a dark comedy, it has thrilled audiences in festivals across the globe and currently has over 16 thousand followers on Facebook (proving to be even more popular than last year's Oscar winning short "Stutterer").
Now "Unforgivable Sin" has just been selected for "Best Shorts of 2016" a prestigious festival, where many of the winners have gone on to win Oscars.
Asking Chloe what she thinks of this, she shrugs, laughing, "I'm just glad to be selected," she says, "if something comes of it, great but if not it's just nice to know that our little film has been appreciated. We had a terrific crew and cast, including the very talented Ido Samuel who played the killer so yeah if it leads to better things that would be wonderful."
Kaplan Zuckerman are promoting "Unforgivable Sin," which is available for viewing online. They are also promoting Chloe's next film, "Devil's Cove," which begins shooting in January 2017.
Contact
Kaplan Zuckerman Entertainment
Elaine Zuckerman
310 534 7789

Contact