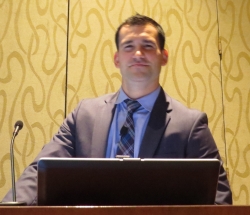 Hamilton, NJ, December 05, 2016 --(
PR.com
)-- Joseph Nawa, a senior consultant at New Day Underwriting Managers LLC, a leading construction-related professional liability and environmental resource firm for retail insurance agents and brokers, recently discussed the risks associated with everyday liability exposures at the 36th Annual IRMI Construction Risk Conference held in Orlando, Florida.
During his presentation to hundreds of conference attendees, Nawa addressed the procedures for "Creating Environmental Risk Profiles" designed to mitigate the risks and financial responsibilities resulting from the problems that can occur in today's extremely litigious construction environment. This included highlighting the potential impact of specific exposures, the coverage types available in the marketplace to minimize financial damages and the variations in policies among the industry's numerous carriers.
"Risk management provides an excellent method for protecting against the potentially catastrophic environmental liability issues faced by firms during the construction process," said Nawa. "It is essential to thoroughly understand the underlying consequences and potential financial repercussions before the contract is even signed, through every building phase, and even beyond completion."
Delivering his comments during two separate presentations, Nawa examined the entire risk management process beginning with a review of the organization's operations and extending to the identification of environmental exposures that exist on jobsites, owned or leased premises, during transportation, or after the disposal of waste.
Among Nawa's recommendations was a four-pronged approach for helping contractors to recognize potential exposures as well as manage and transfer the risks once they occur:
--Education. Employers should consistently educate employees regarding the exposures faced on a day-to-day basis, while providing certified training and jobsite walkthroughs
--Contract Language. Request environmental disclosure statements from the project owner as well as contractual language that includes pre-existing contamination clauses, change in conditions provisions and environmental insurance requirements
--Administrative Controls such as visual inspections, sample analyses, audits, etc.
--Risk Financing or Risk Transfer Alternatives. When researching the appropriate contractor's pollution liability coverage, carefully consider the size and potential environmental impact of the project or firm as well as the integration of the appropriate limits given the project's financial scope, size and expertise, experience and credentials of the other parties involved
"When in doubt, seek professional advice and guidance in establishing a risk management approach to environmental exposures," adds Nawa. "Never underestimate the financial impact of potential problems. The risk is just too high."
For more information on Joseph Nawa's "Creating an Environmental Risk Profile" presentation at the 36th IRMI Construction Risk Conference please contact New Day Underwriting Managers at 609 298-3516 or visit www.newdayunderwriting.com.
About New Day Underwriting Managers LLC
New Day Underwriting Managers LLC is a specialty resource for agents and brokers, assisting them and their clients find appropriate, high-quality environmental and construction-related professional liability insurance coverages. The company offers agents and brokers single-point access to an ample portfolio of products and services provided by the nation's largest environmental and professional liability insurance providers. More information about the company is available on their website at www.newdayunderwriting.com.