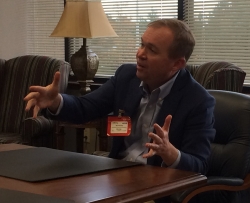 Sumter, SC, December 02, 2016 --(
PR.com
)-- In a visit to SAFE Federal Credit Union this week, U.S. Rep Mick Mulvaney said that with Republican control of both houses of Congress and an incoming Republican president, "we can start making some changes."
Mulvaney, recently re-elected to his fourth term, is a member of the House Financial Services Committee and a high-profile supporter of credit unions. He is helping lead the charge toward repeal of the financial industry regulation known as Dodd-Frank, which many financial institutions consider a burden.
Mulvaney visited with SAFE President and CEO Beverly Gagne and other SAFE executives, and promised "a raft of regulatory rollbacks." He said those rollbacks will include recently imposed regulations as well as the power of the controversial Consumer Financial Protection Bureau.
He pointed to the Financial CHOICE Act, the Republican plan to replace Dodd-Frank and promote economic growth, and said the biggest battle will likely be over the Durbin amendment to Dodd-Frank that puts a cap on interchange fees for debit and credit card transactions.
"There will be a very high profile fight over Durbin, and I will be fighting for repeal," Mulvaney said.
"As one of the largest credit unions in Congressman Mulvaney's district, we very much appreciated the opportunity to provide insight and perspective to him," Gagne said. "We hope he will be successful in promoting change that improves the environment for credit unions and their members."
About SAFE Federal Credit Union
SAFE Federal Credit Union, founded in 1955, is the largest credit union based in the Midlands, with nearly $1 billion in total assets, 112,000 members, and 19 branches. Membership is open to anyone who lives, works, worships, or goes to school in Sumter, Lee, Clarendon, Florence, and Orangeburg counties, as well as parts of Kershaw, Richland, and Lexington counties. Membership is also open to employees of more than 500 companies located throughout the Midlands and relatives of those eligible to join. Connect with us at http://www.SAFEfed.org, on Facebook.com/SAFEfederalcreditunion or @SAFEFCU