Stem Cells Can Successfully Treat Patients with Type 1 Diabetes
The Bioscience Americas science team has a 5-year, 76% remission rate treating Type 1 diabetes using a patient's own stem cells.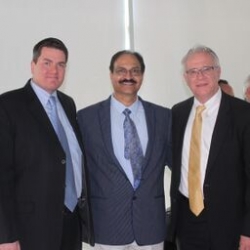 Phoenix, AZ, December 08, 2016 --(
PR.com
)-- Millions of people around the world live with type one diabetes, a life-threatening autoimmune disease that strikes both children and adults. There is no way to prevent the disease, but according to Bioscience Americas CEO Eric Stoffers, there is a way to lessen dependency on costly pharmaceutical treatments while at the same time provide a degree of hope for a cure.
The potential for a cure and the reality of lesser dependency on drugs comes through the use of a patient's own autologous stem cell.
Stem cells are the "mother cells" of the body and are responsible for all human growth. Starting with a tiny two-celled embryo, they have the power to grow in number, divide, and differentiate into all the cells of the body.
According to Mr. Stoffers, "The power of stem cells has been harnessed by our science team at the Global Institute of Stem Cell Therapy and Research (GIOSTAR)." Bioscience Americas extract healthy stem cells from the patient's body using a light liposuction procedure, isolate them, multiply the healthy cells in their laboratory, and reintroduce them back into the patient.
Mr. Stoffers said that once the cells are reintroduced into the body, they are directed to the targeted area where the adapt to the properties of healthy cells and initiate the lost functions that have been compromised by disease or injury. Mr. Stoffers went on to say that "the in-vitro differentiation of stem cells into insulin producing beta cells creates a microenvironment that initiates secretion of healthy immune cells able to counteract autoimmunity of the patient."
Bioscience Americas has partnered with GIOSTAR through a joint venture to established hospital affiliated stem cell treatment clinics around the world for the treatment of autoimmune diseases. The joint venture's first facility will be located at San Vicente Hospital in Rionegro, Colombia. Additional clinics are targeted for Costa Rica, Australia, Saudi Arabia, and on Native American tribal land within the United States. Bioscience Americas is also developing its orthopedic stem cell treatment model to be known as Bioscience High Performance.
Contact
Bioscience Americas
Bill Deegan
480-454-7996
www.bioscienceamericas.com

Contact