Kweli Wireless is Preparing to File for Their FCC 214 Authorization. They Are Poised to Becoming the First Major Black Owned Wireless Service Provider in America.
Kweli Wireless' primary target is ethnic-based. There are 43 million black Americans, 50 million Latino Americans and a few million Native Americans, when you add in pop culture the numbers run over 100 million people as a potential subscriber base. About 2/3 of their base are at least 16 years old or older. Some of them use more than one device or service. Kweli is projecting they will register at least 10% of their base and become a billion dollar corporation within their first two years.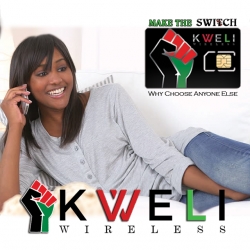 Fayetteville, NC, December 18, 2016 --(
PR.com
)-- Kweli wireless is here to fill an enormous diversity gap in the American Wireless Industry. Today, the American Wireless Industry is a $300 BN year industry and there are currently few, to none, Black Owned Wireless Service Providers in America. The idea of of having a culture based wireless service provider is gaining a lot of attention and excitement in the Black and Latino communities. The pride, in the Black and Latino communities, of having a Black Owner Wireless Service Provider is moving from a theoretical probability to an actual reality. Kweli Wireless will be filing for their FCC 214 authorization in January 2017 and is expected to be offering wireless products by May 2017. Kweli Wireless' initial focus is to building their subscriber base and offering them fair and competitive pricing. Other initial services offered are Mobile Voice Services, Short Messaging and Enterprise Messaging, Mobile Data Connectivity, WLAN Data Connectivity, Hosted Mobile Applications, M2M Solutions for Mobile Computing, Smart Grid Divices, Home Security Monitoring, Vehicle Telematics, and "Internet of Things" (IoT). In the last few years, there has been great efforts to show Blacks and Latinos the benefits in buying culturally, in their own communities, to stimulate and circulate their dollars to build wealth for themselves. Kweli Wireless wants to help facilitate those efforts by investing in their communities to make them decent and safe places to live. The prospect of having a Black Owned Wireless Services Provider in America is already sending shock waves throughout the wireless industry. In 2017, the wireless provider landscape appears to be headed toward and unprecedented shakeup.
Kweli Wireless
Make The Switch!
"Why Choose Anyone Else"
Contact
Kweli Wireless
Dx Muhammad
910-551-0127
KweliWireless.com

Contact