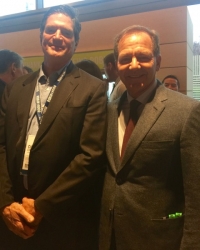 New York, NY, February 09, 2017 --(
PR.com
)-- Chauncey Lufkin, Founder of The Chauncey F. Lufkin III Foundation, attended The Fourth Annual Robin Hood Investor Conference on November 28 and 29th in Brooklyn, New York. The event, now in its fourth year, was presented by J.P. Morgan and was hosted at the new 1 Hotel Brooklyn Bridge -- prior to the hotel's official opening in February.
Robin Hood is New York's largest poverty-fighting organization. The Conference convened top thinkers in investing, biotech, artificial intelligence, real estate and other sectors -- including Ray Dalio, Stanley F. Druckenmiller, David Einhorn, Mary Callahan Erdoes, Jeff Immelt, Paul Tudor Jones II, and Barry S. Sternlicht.
The gathering has raised $18 million since its inception. Robin Hood contributes 100% of the ticket sales to the programs it supports, which include 200+ of the most effective soup kitchens, homeless shelters, schools, and job-training programs.
The two-day conference was organized by Robin Hood Board members Mary Callahan Erdoes, CEO of J.P. Morgan Asset Management; John Griffin, founder and president of Blue Ridge Capital; Daniel Loeb, founder and CEO of Third Point, and Barry S. Sternlicht, founder, chairman, and CEO of Starwood Capital Group.
The conference's packed agenda included "fireside chats" featuring Paul Tudor Jones II of Tudor Investment Corp., Jeff Immelt of GE, Jamie Dimon of JPMorgan Chase & Co., Lee Ainslie III of Maverick Capital, Ray Dalio of Bridgewater Associates and John A. Griffin of Blue Ridge Capital.
"This is our second year attending the Investors Conference. The event continually delivers some of the best investing insights in so many sectors and we make a point to have it on our agenda. This year we were fortunate to be seated at Robin Hood Board Chairman, David Einhorn's table for dinner. David is a true visionary in his field and an outstanding philanthropist. His enthusiasm is unparalleled. We appreciate his commitment to this organization, and are proud to be among its supporting donors," said Chauncey Lufkin.
The organization was founded by Paul Tudor Jones II of Tudor Investment Corporation, pictured here with Mr. Lufkin.
One of the highlights of the conference was motivational speaker, Tony Robbins in conversation with Paul Tudor Jones, whom Robbins himself has long touted as one of the people who has influenced him most, often crediting Tudor Jones with teaching him "how to win, no matter what happens."
Special thanks goes to their primary contact Laurence Jahns, Robin Hood's Senior Vice President, Advancement, who has shepherded The Chauncey F. Lufkin III Foundation's involvement over the years.
Over the coming weeks, Cara Familet, Foundation Director of The Chauncey F. Lufkin IIII Foundation will support our financial donation with her volunteering efforts on two occasions, helping out RH donees with their holiday efforts including Sanctuary for Families, a non-profit dedicated to aiding victims of domestic violence and their children.
As well, Ms. Familet will join other Robin Hood donors in site visits to two other organizations which receive support from Robin Hood – the College Bound Initiative, which empowers low-income students to not only go to college, but to build successful careers, and Immigrant Justice Corps, which has helped 10,000 immigrants with legal issues, including children fleeing violence in Central America, immigrant women escaping domestic abuse, and working families applying to become United States citizens.
Both of these organizations were honored earlier this year's at the annual Robin Hood Heroes Breakfast.
About Robin Hood
Robin Hood, New York's largest poverty-fighting organization, creates and funds over 200 of the most effective programs, to help 1.8 million New Yorkers learn and earn their way out of poverty. Robin Hood's board underwrites all operating costs, so 100% of every donation goes directly to serve New Yorkers in need. www.robinhood.org
About the Chauncey F. Lufkin III Foundation:
The Chauncey F. Lufkin III Foundation is a charitable organization founded in 2006 dedicated to improving the quality of life for individuals around the world. Our foundation's focus is on fighting poverty through better education and by finding faster cures for the diseases that affect loved ones. Our strategy is to comb the globe for private independent foundations effectively working on these issues, supporting them with financial injections that make a difference. To date the Foundation has lent their support to numerous organizations including The Robin Hood Foundation, The Milken Institute, The Boys and Girls Club of Palm Beach County, Quantum House of Palm Beach County, St. Jude Children's Research Hospital, The Aspen Institute, and BizWorld. Mr. Lufkin has also established The Chauncey Lufkin Endowment for Academic Excellence at Southern Methodist University and is a major contributor to St. Lawrence University. www.cfl3.org