William Meredith Foundation Presents the 2017 Award for Poetry to Peter Meinke
The William Meredith Foundation invites writers, reporters, and lovers of poetry to celebrate the 2017 William Meredith Award for Poetry. The prize carries a modest cash award along with the publication of a collection of Meinke's essays, TO START WITH, FEEL FORTUNATE by Poets-choice.com. Each reflection on American culture relies on poetry to frame the issue at hand and provide a broader spiritual context. Each essay is beautifully illustrated by the author's wife Jeanne Meinke.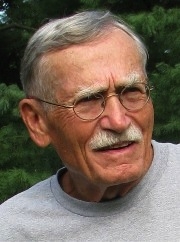 St. Petersburg, FL, January 09, 2017 --(
PR.com
)-- The William Meredith Foundation is proud to present the 2017 Award in Poetry to Peter Meinke, current Florida Poet Laureate and beloved Professor Emeritus from Eckerd College, St. Petersburg, Florida. The award has no application process, but comes to the author unsolicited in the spirit of generosity that informed William's interactions with the world of poetry when he judged competitions and supported new talent. It is only one of the artistic projects supported by the foundation to continue the legacy of this great American spirit.
Of his own poems, Meinke has said, "They vary widely, but there's always some humor lurking nearby. It's basically a dark view of the world, but a reasonably cheerful take on it. Politics is in there, and anti-war poems, though I try not to sound like I'm preaching." And elsewhere, "You have to remember that even the poets who live in garrets are citizens, and I urge them to use their voices and partake in the actual goings-on of our country."
Meredith and Meinke were friends in Washington when Meredith was the US Poet Laureate and both men share a belief in the accessibility and utility of poetry in living fuller lives. An earlier Meinke collection of essays, Truth And Affection reveals the importance of such an aesthetics in the world's challenging landscape.
Peter Meinke has published eight books of poems in the prestigious Pitt Poetry Series, the most recent being Lucky Bones (2014). His first book of short stories, The Piano Tuner (U. of Georgia Press, 1986), received the Flannery O'Connor Award; his second, Unheard Music, was published in 2007 by Jefferson Press. In the last few years, the U. of Tampa has published Lines from Neuchâtel: 35th Anniversary Edition (2009), The Shape of Poetry: A Practical Guide to Writing & Reading Poems (2012), and Truth and Affection: The "Poet's Notebook" Columns from Creative Loafing (2013), all illustrated by his wife Jeanne Meinke, along with a collection of Jeanne's drawings from The New Yorker and other publications, Lines from Wildwood Lane (2010). His latest book is "The Expert Witness": 26 short stories with 26 drawings (U. of Tampa Press, 2016).
Meinke's work has appeared in Poetry, The Atlantic, The New Republic, The New Yorker and dozens of literary magazines; and has received numerous awards, including two NEA Fellowships, three prizes from the Poetry Society of America, two O'Henry Awards, among many others.
Novelist and critic Doris Grumbach has said of his work, "Whatever his subject, Meinke is a skilled, wildly imaginative writer who loves the climactic epiphanies that terminate his terrifying situations."
Others continue his praise:
"(These poems) say truth, and they say it with rue, wit, shapeliness, a wonderful hand on the keyboard of metaphor." - Alicia Ostriker
"All the things I respect about poetry are in the book: wonderful wording, craft, ideas, wisdom, sensitivity, compassion..." - Cliff Fetters
Announcement of this award comes on January 9th, the ninety-ninth anniversary of Meredith's birth and 10 years after his death in 2007.
Contact:
Foundation Director: Richard Harteis, Tel. (860) 961-5138 marathonfilm@gmail.com www.WilliamMeredithFoundation.org and www.Poets-Choice.com
photo credit: Jeanne Meinke
Contact
Poets Choice Publishing
Richard Harteis
860-961-5138
www.poets-choice.com
www.WilliamMeredithFoundation.org
poets-choice.com

Contact