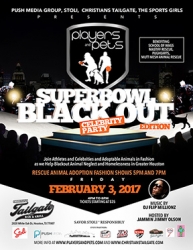 Houston, TX, January 10, 2017 --(
PR.com
)-- Push Media Group in conjunction with Christian's Tailgate, The Sports Girls, Tejas Treffen will host all star caliber athletes, entertainers and influencers for a night of animal fashion, animal adoption and music event dubbed Players and Pets Super Bowl Blackout Edition Celebrity Party to benefit three Houston area animal charities, Mutt Mesh Rescue, School of Wags and Pug Hearts. Various athletes from NFL teams will join host Jammin Jimmy Olson, along with company executives and media personalities who will walk the runway with some of the most adorable animals up for adoption in Houston. They continue their fashion twist on the runway with the animals wearing their own boutique style clothing.
This event will feature the athletes and personalities walking animals currently up for adoption from the three Houston rescues. Some of the fashion items will be donated with the individual animal up for adoption along with other items from various sponsors. A special DJ set by local favorites and National recording artist and DJ Flip Millionz will entertain guests from 4 to 8pm. Come see some of the areas most coveted Porches courtesy of Tejas Treffen in the VIP areas.
Additionally, they will continue their blackout ribbon campaign, where each animal up for adoption will wear a black ribbon featuring a blue crystal symbolizing our own rescue, four year old, blue eyed, Pitbull Mix, Lady Lavache. Lady, was facing a rapid end of life before being rescued. At 43 pounds, tied to a 2 foot leash on the back of a broken couch in the backyard of a South Carolina home with no food or water for an uncertain time. Now 65 pounds, she serves as the motivation behind the blackout campaign, to put an end to animal neglect and homelessness.
Several lucky VIP guests will have the chance to walk with the athletes and celebrities with their own dog with a minimum donation of $1000. There will be 3 spots for fundraising with a unique experience to walk with your athlete of choice for the evening.
Where:
Christians Tailgate Heights Location
2820 White Oak Drive
Houston, TX 77077
When:
Friday February 3, 2017
4pm-8pm
Animal Adoption Fashion Show
5pm and 7pm
Tickets for General Admission start at $25 with VIP admission and Tables Available.
Media Availability Prior to Fashion Shows
About Push Media Group
Founded in 2005, the Push Media Group was created to expand all of our media entities that include Pointed Magazine, Sweetest Sundaes, Players and Pets, Celebrity Sports Camps, King Solomon Photos and Railroad Dark. Many of which have one common goal, generating revenue for various charities while hosting the best in celebrity charity parties nationwide. Attending one of our events will be a night to remember.
Originally promoting events where just a couple of celebrities and entertainers attended, Pointed Magazine and the Push Media Group held a successful breakout party titled Babes and Ballers during the 2007 NBA All Star Weekend and where 35 celebrities walked the red carpet and over 2,000 people attended. The success of our event on the biggest sports weekend ever in Las Vegas history was key in planning future events. Some of the charities we have partnered with in the past have included Halo Animal Rescue, Dallas Stars Foundation, St. Baldricks, Toys for Tots, AIDS Foundation of Chicago.
Media Contacts:
Sol Tucker
Executive Director, Push Media Group
301.442.5627
sol.tucker@pushmediagroup.com
Beth Silverberg
The Sports Girls
305.725.3615
beth@thesportsgirls.com
Chris Alan
Christians Tailgate
832.472.3625
edwardalanpickett@gmail.com