Inaugural Annual San Diego Security Show to Showcase Live Interactive Physical Security Wall
Real-World Solution Wall to Demonstrate Today's Video Surveillance and Physical Security Interoperable Capabilities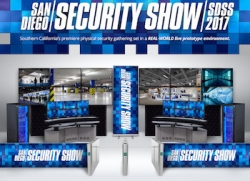 San Diego, CA, January 11, 2017 --(
PR.com
)-- Security.World, an online physical security and video surveillance news and information portal, in association with San Diego-based Wave Representatives announce the San Diego Security Show 2017 event, to be held over two days at Mission Valley's Town and Country Convention Center on January 25 and January 26, 2017. This physical security and video surveillance exposition will highlight 11 manufacturers displaying their solutions for the Southern California physical Security industry.
The San Diego Security Show 2017 (SDSS2017) is designed to be Southern California's premiere physical security gathering and is different in one major area over traditional conferences and expos. At SDSS2017, manufacturers will showcase their products and solutions in a live, real-world, prototype environment. Participating vendors will incorporate their specific products into the "Security Solution Wall." The Security Solution Wall will be a live working solution set highlighting the various components of an overall physical security infrastructure.
The anticipated 2,500 attendees will witness first-hand an end-to-end physical security infrastructure and learn from industry experts how the various technologies such as megapixel IP-cameras, access control technology, video-oriented networking equipment, wireless networking equipment, video storage solutions, and command and control technologies can all work together to deliver a leading edge physical security environment.
Sponsored by Qualcomm, The San Diego Security Show 2017 will also spotlight three separate speaker presentation tracks during the 2-day event. These speaker tracks are broken up into three categories. Each participating vendor will have a speaking slot to help educate and inform the attendees with their unique solution offering. The second speaker track is a set of industry professionals that wish to share their knowledge and understanding of a particular area of the physical security industry. And the third speaker track is from end-users across Southern California that want to share "What Keeps Them Up At Night" with their physical security challenges. Attendance to all speaker tracks is available with admission to the exhibit floor. Spend two days learning from industry experts in a hands-on environment.
Admission is $75 for the two-day event including the first day cocktail party.
San Diego Security Show has been developed out of the desire to "put the marble in the machine" and see firsthand how all of the various aspects of a physical security infrastructure can actually work together. Attendees will watch and learn how true interoperability works in action and push aside the hype from what can truly be accomplished. See for yourself what works and what is hype and make your next physical security buying decision based on facts and functionality.
About San Diego Security Show 2017
The San Diego Security Show is produced by Security.World. Security.World is an online news and informational portal covering the physical security world and is kicking off the annual San Diego Security Show. Security.World covers all aspects of the video surveillance and physical security industry including IP-cameras, access control, biometrics, networking, video analytics, VMS systems, video storage solutions, and more. http://www.Security.World and http://www.SanDiegoSecurityShow.com
Contact
Security.World
Jay Bartlett
760-429-3444
security.world

Contact
Multimedia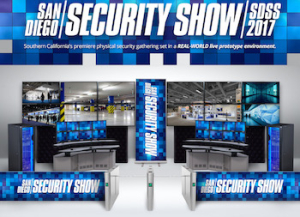 Don't just walk a trade show floor, participate in the actual technology.