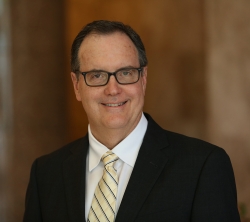 Fort Worth, TX, January 17, 2017 --(
PR.com
)-- Gordon & Sykes is thrilled to announce that attorney James C. Gordon received Board Certification in Construction Law, as confirmed by The Texas Board of Legal Specialization.
Board Certification is a voluntary designation program certifying Texas attorneys in specific areas of law. Board Certified attorneys must be licensed for at least five years, devote a required percentage of practice to a specialty area for at least three years, attend continuing education seminars, pass an evaluation by fellow lawyers and judges and pass a 6-hour written examination.
The written examination, the first ever in Construction Law, was given on October 18, 2016. Out of the 112 candidates for certification, 82 attorneys passed the written test. Gordon said, "I am pleased to be in the first group to be Board Certified in Construction Law. My practice focuses on representation of contractors, subcontractors, architects, engineers, developers, and others involved in commercial construction, and this certification will enhance my knowledge and my representation skills in this area."
Gordon is a graduate of the University of Texas School of Law and was licensed by the State Bar of Texas in 1976. This is Gordon's second certification in a specialized practice area, as he was also Board Certified in Civil Trial Law in 1999. He formerly served as Director of the Tarrant County Bar Association and as Director and President of Dispute Resolution Services of Tarrant County.
Board Certification is offered to attorneys in 22 specific areas of law. Initial certification is valid for five years. To remain certified attorneys and paralegals must apply for recertification every five years and meet substantial involvement, peer review and continuing legal education requirements for their specialty area.
About TBLS:
Texas Board of Legal Specialization (TBLS) is authorized by the Supreme Court of Texas. It certifies attorney in 22 specific areas of law and paralegals in six specific areas. TBLS serves as a resource by listing all certified attorneys and paralegals on their online database. TBLS works to ensure that the citizens of Texas receive the highest quality legal services.