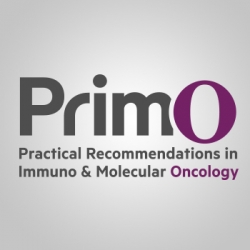 Wailea, HI, February 13, 2017 --(
PR.com
)-- The winners of the 2017 Women in Oncology Award were announced this weekend at the 2nd Annual Practical Recommendations in Immuno and Molecular Oncology (PRIMO) Meeting. The awards were Introduced by Charles Balch, MD, PhD(hc), of the MD Anderson Cancer Center, and presented by meeting Co-chairs Julie Brahmer, MD, MSc, of Johns Hopkins School of Medicine and Julie Vose, MD, MBA, of the University of Nebraska Medical Center.
The Women in Oncology Awards are presented annually to three outstanding women in academia, industry, and advocacy, and seeks to recognize women who have made outstanding contributions to the lives of those fighting cancer. The 2017 the Women in Oncology Award Winners are:
Academic
Nancy Davidson, MD, is the Executive Director of the Fred Hutchinson and University of Washington Cancer Consortium, located in Seattle, WA. She is a world-renowned breast cancer researcher, who has dedicated her career to the study of cancer biology and treatment. In addition to her role at Fred Hutchinson, she is the President of the American Association for Cancer Research, and the Past-President of the American Society of Clinical Oncology.
Advocacy
Kathy Giusti is a Founder and Executive Chairman of the Multiple Myeloma Research Foundation (MMRF) and the Multiple Myeloma Research Consortium (MMRC), as well as the Faculty Co-Chair of the Harvard Business School Kraft Precision Medicine Accelerator. As Executive Chairman of the MMRF, she established innovative research models to accelerate the pace of development for lifesaving treatments, earning her recognition not only as a pioneer of precision medicine, but also as a strong advocate for patient engagement. Due to her and her foundation's success, Ms. Giusti has earned numerous career accolades, including a #19 ranking in Fortune Magazine's "World's 50 Greatest Leaders", and an appointment to President Obama's 2015 Precision Medicine Initiative Working Group.
Industry
Jill DeSimone is the Head of US Oncology at Merck. Under her leadership, pembrolizumab received FDA approval in metastatic melanoma, non-small cell lung cancer, and head and neck squamous cell carcinoma, positively impacting a large number of patients across the US. Prior to her time at Merck, Ms. DeSimone was a Senior Vice President at Teva Pharmaceuticals, where she established the Global Women's Health Unit, as well as a Senior Vice President at Bristol-Meyers Squibb.
The organizers of this award, PRIMO Education and Cancer Expert Now, thank these three outstanding women for their commitment to the advancement of cancer care and advocacy, and look forward to their continuing contributions to oncology in the future.