Alex Wan Again Gains Support of National Victory Fund in Race for Atlanta City Council President
Atlanta City Councilmember Alex Wan, who is seeking the second-highest elected position in Atlanta government, Atlanta City Council President, has been endorsed by Gay & Lesbian Victory Fund. www.AlexWanForAtlanta.com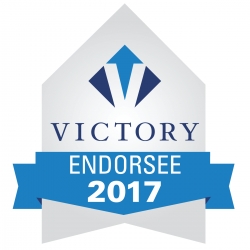 Atlanta, GA, February 16, 2017 --(
PR.com
)-- Atlanta City Councilmember Alex Wan, who is seeking the second-highest elected position in Atlanta government, Atlanta City Council President, has been endorsed by Gay & Lesbian Victory Fund. Victory Fund (www.VictoryFund.org) is the only national organization dedicated to increasing the number of openly lesbian, gay, bisexual and transgender elected officials at all levels of government.
"We were proud to endorse Alex in 2009 and 2013, and are thrilled to endorse him again today," says Victory Fund President & CEO Aisha Moodie-Mills. "Alex has been a staunch and vocal supporter of the District's diverse neighborhoods, and embraced his role on the City Council with an admirable collaborative leadership style. His service and leadership during a time of great political change for LGBT people is critical – and Atlanta will be a better city with Alex leading the City Council."
"I am honored by the support of Victory Fund," says Wan, whose professional experience includes the private, public, non-profit and higher-education sectors, is in the fourth year of his second term representing District 6 on City Council. "Victory Fund's candidate training and support played an important part in my public service journey and helped lead to my initial decision to run for office and, now, as I seek to continue my service. I look forward to continuing to move away from politics as usual, with genuinely collaborative engagement between all of the city's stakeholders."
In his bid for Council President, Wan says he will continue to leverage deep roots in the community, long-time civic leadership, business acumen and his record during seven years at city hall. "I'm eager to continue working on tough issues like transportation, infrastructure, affordable housing, operational efficiency, sound fiscal stewardship, public safety, individual and collective economic prosperity, and quality of life," he says.
Wan was first elected to the City Council District 6 post in 2009 and easily earned a second term in 2013 with 76 percent of the vote, both times garnering a broad base of support. He is the first Asian American and first openly gay man to serve on Atlanta City Council. He is (currently) Director of Development and Alumni Relations at Emory University.
Raised in Atlanta and a Morningside homeowner for over 20 years, Wan was perhaps best known before his Council win for long-time community involvement, including service on the Invest Atlanta (formerly Atlanta Development Authority) Board and founding For the Kid in All of Us, an all-volunteer non-profit serving children in need. He currently serves on Boards of Directors for the Piedmont Park Conservancy, the Little Five Points Community Improvement District (CID), and the Olmsted Linear Park Association.
He holds a Bachelor's in Industrial Engineering from Georgia Tech, a Finance MBA from Wharton Business School, and has completed educational programs at Dartmouth and Harvard.
The Atlanta City Council President is elected city wide, presiding at all Council meetings and voting in the event of a tie. The president of the Council also appoints chairs and members of the various committees. Council President also serves as vice mayor, acting for the mayor in certain instances. The Atlanta City Council President is elected for a four-year term, with the election to be held in November 2017, taking office in January 2018. The current City Council President is running for mayor.
For more information about Wan and his campaign: www.AlexWanForAtlanta.com.
Contact
Alex Wan for Atlanta
Drew Plant
404-634-7102
www.AlexWanForAtlanta.com

Contact