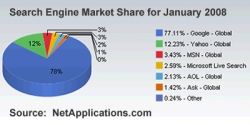 Aliso Viejo, CA, February 02, 2008 --(
PR.com
)-- Aliso Viejo, CA based Net Applications announces
January 2008 Internet Usage Market Share
. In an analysis of the proposed Microsoft acquisition of Yahoo (we'll call it MicroHoo), how does the merged company stack up against Google?
Internet Traffic:
According to Alexa, a Net Applications Partner, of the top 20 websites for traffic, those majority-owned by MicroHoo or Google fall into the following columns:
MicroHoo
1. Yahoo
4. Live
5. MSN
17. Yahoo.co.jp
19. Microsoft
Google
2. Google
3. YouTube
10. Orkut
12. Blogger
15. Google.fr
Winner: Slight advantage to MicroHoo for snagging the world's most popular website.
Search:
Net Applications' Search Engine global usage data for January 2008 shows that combining Yahoo, MSN and Microsoft Live would give MicroHoo a respectable 18.25% market share compared to Google's 77.11%.
Winner: Google by a landslide.
Browser:
Net Applications' Browser global usage data for January 2008 shows that Microsoft Internet Explorer still commands 75.47% market share, even after a steady ebbing of share to Firefox, Safari and Opera. Google doesn't compete in browsers, but the proposed Microsoft - Yahoo merger may inspire Google to find an entry into that market.
Winner: MicroHoo by default.
Operating System:
Net Applications' Operating Systems global usage data for January 2008 shows that Microsoft again has a commanding lead with 91,46% market share. Merging with Yahoo doesn't seem to help or hurt here. And, while Google doesn't currently compete with a PC operating system, they do have a mobile phone operating system called Android in the works. The Apple iPhone is more competition currently to Microsoft on mobile devices than Google Android.
Winner: MicroHoo overwhelms Google.
Overall:
When you look at the financials, Microsoft is in an extremely strong position currently. They have a market cap of approximately $300 billion, so the $44 billion to acquire Yahoo! wouldn't set them back too much. They've beaten analyst expectations, and still own the PC desktop and browser markets. Yahoo! adds the most robust content engine on the Internet. Yahoo!'s ad revenue growth hasn't come close to Google's, but if they can somehow turn their strength in content into increased ad revenue, it would create an even bigger win for MicroHoo.
Conversely, Google has missed their most recent analyst expectations, and their stock price is currently free falling. For all of its endeavors, Google still gets the vast majority of their revenue from online advertising. And, with a weaker economy, one of the first things companies cut is advertising budgets.
For these and other Global Market Share Statistics, go to
marketshare.hitslink.com
.
###