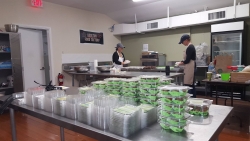 Boca Raton, FL, February 21, 2017 --(
PR.com
)-- Looking for good news to wake up to; then here it is! Vegan food sales have increased by 1500% in the last year alone. That means more people are turning towards more healthy and less cruel options. It also shows something which has been thought for sometime now, more people are choosing to eat vegan.
That's great news for vegan or raw food caterers, chefs, business owners, mobile food trucks and food entrepreneurs who want to cater and/or make food/desserts to sell wholesale to stores or retail to individuals and at farmer's markets and capitalize on this profitable surge.
There is a fully licensed commercial vegan commissary kitchen in Palm Beach County, FL. Whether a person is established or just visiting the idea of their own food business, the Healthy Food Factory team is ready to help. It's a shared kitchen so people can afford to legally make their food in a fully certified facility. If a person is new they offer a free consultation to give them a good overview of licensing requirements and more. They also help new entrepreneurs get their food permit license.
"Call Lewis at 561-394-7466, he is the sweetest and most helpful person you will ever meet. Pass the word. Good luck."
- Brigitte Lang, Founder/President
(561) 394-7466
www.HealthyFoodFactory.com
"Veganism is not about giving anything up or losing anything; it is about gaining the peace within yourself that comes from embracing nonviolence and refusing to participate in the exploitation of the vulnerable." - Gary L. Francione