"Hip Without the Rip" Eyewear Arrives in Pittsburgh
Voted "Best Eyewear" 49 times in readers' polls in major publications from coast to coast, SEE brings true value to stylish eyewear aficianados in Pittsburgh. SEE opens Saturday, February 25 in Shadyside.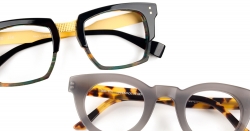 Pittsburgh, PA, February 25, 2017 --(
PR.com
)-- SEE, the pioneer of high quality, exclusive designs at a true value, is opening its first Pittsburgh location at 5533 Walnut Street (between Filbert and Ivy) in Shadyside. The Shadyside location joins the successful lineup of 38 SEE stores in New York City, Los Angeles, South Beach, Boston, San Francisco, Georgetown, Chicago, Nashville and Charleston, among others.
The new store is open Monday-Friday 10-8, Saturday 9-6 and Sunday 11-5. The store's phone number is (412) 316.4033.
"Pittsburgh has been on our radar for several years," explains founder Richard Golden. "We have a SEE in the Philadelphia area, and many people from Pittsburgh frequent that store as well as many of our other locations. Walnut Street represents the type of liveliness and mix of eclectic boutiques and restaurants that is perfect for our brand, and the Shadyside neighborhood is an excellent match for SEE."
SEE produces an incredibly limited number of each frame, sometime only 2 per color for each city or store. "It really is the closest thing to custom eyewear made just for you," adds Golden. "It is ideal for people who want a unique look that no one else will have, and we think that will really resonate with the Pittsburgh clientele."
Exclusive and Original Designs
"We're enjoying blazing a new trail, building an iconic brand and truly changing the way consumers view purchasing unique fashion eyewear," says Golden. With an innovative retailing concept and sleek store design, SEE offers a fresh outlook on eyewear. "We set out to develop a gouge free environment for people who appreciate trendy luxury eyewear without the ridiculously absurd price tag. Sourcing directly from the world's most forward thinking designers allows SEE to bring true value to the consumer. Thus SEE's slogan..."hip without the rip."
"There are no stores like SEE. We have a talented in house design team and also work with the world's premier artisans from 17 countries around the world with the vast majority coming from Europe to build the best fashion eyewear line on the market. This allows customers to enjoy fashion-forward styles at 1/3 to 1/2 of what they normally pay for comparable high-quality, high-fashion prescription and non-prescription eyewear. In fact, SEE's collection starts at just $169 and all of our prices for eyeglasses include single vision plastic or polycarbonate lenses."
The Buzz about the Brand
With SEE, shoppers across the country now have access to the frames touted by celebrities and national media outlets. SEE has been featured in Vogue, InStyle, GQ, Marie Claire, Elle, O Magazine, WWD and countless other fashion digital and print magazines both nationally and internationally. Readers in major publications have consistently voted SEE "Best Eyewear, " with SEE amassing over 49 "Best Eyewear" nods in readers' polls across the country. SEE was also named "One of the 38 Essential Philly Shopping Experiences" by Philly Racked.
About SEE
SEE (Selective Eyewear Elements) was conceived by optical pioneer, Richard Golden, as a prototype optical boutique with the mission of changing the rules forever by making the purchase of "cool" eyewear a fashionably and economically correct experience.
SEE operates 39 stores nationally, with stores in Memphis, TN and Toronto slated to open in the next few months. For more information, please visit
www.seeeyewear.com
or contact Susan Berryman at (248) 354-7100 ext. 498.
Contact
SEE
Susan Berryman
866-733-3937 x498
www.seeeyewear.com

Contact