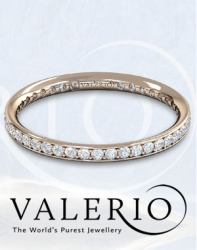 Santa Fe, NM, March 01, 2017 --(
PR.com
)-- Reflective Jewelry announces the launch of Valerio Jewelry, the only Fairtrade Gold wedding and engagement ring collection offered by an American jewelry company in the USA.
"In these times, when social and environmental justice is under threat, the availability of Fairtrade Gold jewelry in North America is a radical positive occurrence," said Marc Choyt, President of Reflective Jewelry, the only certified Fairtrade Gold jeweler in the USA. "We've anchored a movement in this country that supports global Fairtrade Gold communities where people of all faiths and cultural backgrounds work together for a common good."
The Valerio Classic bridal collection, The World's Purest Jewelry, was created by global campaigner and activist, Greg Valerio. Valerio was the first Fairtrade Gold jeweler in the world, and pioneered ethical sourcing in the United Kingdom. The Valerio Collection features classic and timeless bridal designs, from single diamond engagement rings to eternity bands, to classic court wedding bands. The gemstones in the collection are traceable and transparent straight back to their sources.
"This Classic collection offers a purity and authenticity born out of over 20 years of pioneering luxury ethical jewelry. Fairtrade Gold, natural origin of denomination gems and diamonds traceable straight back to the hands of miners and source," said Greg Valerio, who created the line. "This is a jewelry customers perfect choice, beauty without compromise, pure love and pure consequences."
Valerio and Choyt have been collaborating since their first meeting in the Madison Dialog Ethical Jewelry summit at World Bank in 2007. They have campaigned for jewelry that is ecologically responsible and beneficial to producer communities. They have also worked together on many campaigns and projects through their Fair Jewelry Action network.
Though Reflective Jewelry already produces some of their wedding rings and most of their bimetal earrings, pendants and bracelets with Fairtrade gold, the Valerio brand will bring meaningful progress to the ethical jewelry space in the US, which lingers far behind the UK and EU in industry understanding and consumer awareness. It will be exclusively available in the USA through Reflective Images Jewelry, both in their Santa Fe boutique and via their website, ReflectiveJewelry.com. The Valerio Collection will also continue to be offered in the UK and EU at ValerioJewellery.com.
"When Fairtrade gold is as well-known as Fairtrade coffee and chocolate, consumers will be able to have jewelry which represents fair and ethical trading practices; and at the same time, hundreds of thousands of people in small-scale mines around the world will be empowered to live better lives," added Choyt, who has pioneered responsible jewelry practices for over ten years in North America.
About Greg Valerio
Dr. Greg Valerio MBE (Member of the Order of the British Empire) has been described by the jewelry establishment as the "most dangerous bastard in the industry." His uncompromising stance on full transparency, public accountability, consumer choice and Fairtrade standards throughout the jewelry supply chain led him to be voted, The Observer/Guardian Campaigner of the Year for 2011. In 2016 he was honoured with an MBE by Her Majesty, the Queen, for his work securing Fairtrade Gold for consumers and for artisanal small-scale mining communities in South America and Africa. In October 2016 he received an honorary doctorate from Winchester University for his service for social justice. His jewelry biography Making Trouble - Fighting for Fairtrade Jewellery is published by Lion Hudson (2013).
About Reflective Jewelry
Reflective Jewelry is a brand of Reflective Images Inc. The company has been the only certified Fairtrade Gold jeweler in the US since April 2015. The company was founded in 1995 under the direction of Helen Chantler, who is the Creative Director of the company in partnership with Marc Choyt, who serves as President and directs business operations. The company, which retails custom designer jewelry, wedding rings and engagement rings, has also sold their product to premium companies, catalogs, and hundreds of stores nationwide. They also feature a Celtic collection of their designs on an additional website, CelticJewelry.com. Ethical sourcing and leadership have always been key components of the Reflective Images Jewelry brand. The company won a Sustainable Santa Fe award for its triple-bottom-line practices in 2014, an award for Sustainable Leadership in 2012, and the 2010 Jewelers That Care national award for ethical leadership in the jewelry sector.
About Fairtrade Gold
Fairtrade Certified Gold is a ground breaking initiative linking consumers of jewelry with the source of their purchase, offering a real lifeline to small-scale miners and their communities. Working with Fairtrade International, mining organizations are able to meet the strict Fairtrade Standards: working conditions, child labor laws, women's rights, cleaner technology, health and safety of miners, and responsible environmental management. Learn more about the Fairtrade Gold Program from Fairtrade International.
Additional product images available upon request. For more information and interviews, contact Jess Gantos, Jess@ReflectiveJewelry.com, 505-988-7393