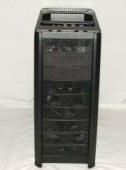 Cranford, NJ, February 05, 2008 --(
PR.com
)-- CompAmerica (http://www.compamerica.com) has released the Super Eagle Extreme: a new Gamer's PC that couples three nVidia 8800 GTS video adapters by nVidia, acting as one, with Intel's new QX9650 CPU.
Working with nVidia and Intel, CompAmerica indicates that various options which are of interest to Video Gamers, such as Water Cooling, and Overclocking, are standard on the SEE 9650 series.
A high performance SATA RAID controller optimized for 10K Sata-3 GB per second hard drives and support for up to 8GB of 800/1600 GHz dual channel memory rounds out the package. The system ships with a specially designed Gaming Case that includes loads of cooling, space for water cooling to support overclocking and a choice of 620 Watt and 1000 Watt Super Cooled power supplies.
"The theory behind the Super Eagle, is to use three 16x PCI Express Video Adapters to more than double the performance normally available from Microsoft Windows Vista and XP, running gaming software as a competitive sport." stated company CEO Dr. Jack A. Shulman. "We have been shipping water cooled overclockers to Extreme Gamers since the 90's, and recently Intel and nVidia have jumped on the Extreme Gamer bandwagon: it's a highly competitive field of extraordinarily skilled Video Gamers who demand the best, so we decided to make the very fastest Video Gamer in the industry, at a reasonable price."
"A fully configured SEE series runs from $2000 to $5000 or more, so expect to pay a good amount for top of the line systems," continued Dr. Shulman, "but expect to also get the best performance for the price in the industry!"
CompAmerica, located in Cranford, NJ has led the industry in extreme computing for a number years, including 16 and 32 way computers for competition chess, supercomputers for extreme competition video and chess, and the SEE series which breaks the video performance barriers.
For more information, contact the company at http://www.compamerica.com and by phone at 908-931-1200 (888-275-2771 toll free).
###