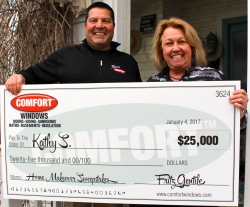 Syracuse, NY, March 03, 2017 --(
PR.com
)-- Kathy Schwab of Elbridge, NY was drawn from more than 6,000 entrants in Comfort Windows Ultimate Home Makeover across Upstate, NY.
Upon being told she had won Kathy was in shock, "I didn't even know if I could believe it… $25,000?! I mean who wins $25,000 worth of anything?! It's surreal. It's unbelievable."
The prize includes a consultation with a product & design expert from Comfort Windows. The prize money can be used on any of Comfort Windows' 14 products and includes full installation and warranty.
Kathy is most looking forward to new windows, doors and a bathroom; projects she had been delaying. Kathy said, "We spent a lot of money on a wall of windows that failed, like within a few years because they weren't done right. And that was a lot of money that we invested. So to have those windows in working condition again, means a lot."
Comfort Windows launched the Ultimate Home Makeover Sweepstakes in 2015 with Amy S. From Phoenix, NY winning out of over 2000 entrants. The 2016 sweepstakes saw even more entries as hopeful winners entered online and in person across New York State. Kathy's lucky entry was submitted at the Summer Solstice Garden Tour & Plant Sale in Marcellus, NY on June 18th.
Fritz Gentile, Co-Owner of Comfort Windows said, "its my favorite experience of the entire year. To make someone's day…. someone's year, by helping them out like this. What an amazing honor to be able to help someone achieve their home makeover dreams." Gentile said regarding the 2017 Ultimate Home Makeover Sweepstakes, "I'm already looking forward to announcing next year's winner."
Interested parties can enter the 2017 Sweepstakes by visiting the Comfort Windows website:
https://www.comfortwindows.com/ultimate-home-makeover-sweepstakes
Entries will once again be accepted at all Comfort Windows Showrooms as well fairs, festivals and home shows across NY that Comfort participates in.
About Comfort Windows
Comfort Windows was established in 1979 and builds its own windows at its manufacturing plant in Liverpool, NY. Comfort Windows is the 29 largest remodeling company in the U.S. according to Qualified Remodeler Magazines Top 200 list. Comfort has won numerous awards and is a 4-time winner of the Upstate NY Better Business Bureau Torch Award for Marketplace Excellence.
Comfort offers a full line of products and services including windows, doors, siding, basements, baths, sunrooms, decking and insulation. Comfort Windows is headquartered in Syracuse, NY and employees over 300 people out of its 4 locations in Syracuse, Rochester, Buffalo, Albany.
If you would like more information about this topic, please contact Scott Brown at 315-571-6422 or email at sbrown@comfortwindows.com