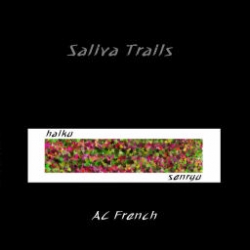 Busan, Korea, South, February 05, 2008 --(
PR.com
)-- Anthony French's "Saliva Trails" is at this time, the best selling book of poetry in English, released from the Republic Of Korea through Lulu.com [the online marketplace for digital content].
Lulu.com is home to a vast assortment of poetry titles across a range of different styles. "Saliva Trails," a collection of short poems, falls into the genre of haiku and senryu poetry. It represents a deep, yet at times lighthearted first gathering of work by this British writer.
This book, categorized in over twenty chapters contains a wide selection of contemporary haiku and senryu poetry. Unique insights into self-awareness, spirituality, life and death, love and relationships, nature and the everyday world around us.
Aberjhani, author of I Made My Boy Out of Poetry and Encyclopedia of the Harlem Renaissance, comments: "Anthony infuses traditional craftsmanship and form with a modern literary sensibility that brings dynamic fresh energy and insight to poetry as we know it. His poetry is a garden of perfume-scented reminders, containing thorns as well as blossoms that entertain with their beauty and teach with their wisdom."
When asked about his aims for this book, Mr. French commented "It would be rewarding to feel that I might have inspired readers in some way, though I would happily settle for making them laugh, cry or at least smile."
"Saliva Trails" is available through most leading online book distribution channels, including Lulu.com.
http://www.lulu.com/content/992080
###
Lulu.com is the premier marketplace for digital content on the
Internet, with over 300,000 recently published titles, and more than 4,000 new titles added each week, created by people in 80 different countries. Lulu is changing the world of publishing by enabling the creators of books, video, periodicals, multimedia and other content to publish their work themselves with complete editorial and copyright control. With Lulu offices in the US, Canada the UK and Europe, Lulu customers can reach the globe.