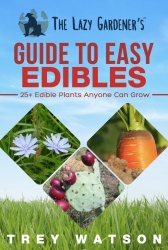 Nacogdoches, TX, March 05, 2017 --(
PR.com
)-- Trey Watson, owner of Legg Creek Farm, LLC and Legg Creek Publishing, recently announced the release of a new gardening book under the Legg Creek Publishing imprint. The book title is "The Lazy Gardener's Guide to Easy Edibles: 25+ Edible Plants Anyone Can Grow." This is the author's fourth gardening book. "I've had to spend a lot of time doing other things besides gardening over the past couple of years," says Watson. "This book was the culmination of experiments I did in growing edible plants with very little effort. Some of the experiments were intentional wile others were simply because I neglected the plants. I'm not ashamed to say that I am a lazy gardener."
"The Lazy Gardener's Guide to Easy Edibles" is currently available as an ebook and print book on Amazon.com and in print at several independent bookstores. It will be available at select Barnes and Noble bookstores in mid-2017.
Trey Watson is also the author of the 2013 book, "Southern Bounty: How to Grow and Enjoy Southeastern Native Fruits and Nuts," described in the Blazing Star, the newsletter of the North American Native Plant Society as "commend(ed) to all lovers of native plants."