North Carolina Christian Apparel Company - Doing Things Differently
Christian Strong™ is dedicating in giving back to their local communities and Churches nationwide.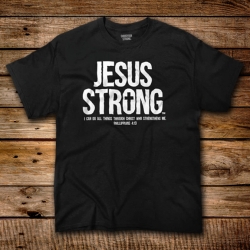 Ramseur, NC, March 06, 2017 --(
PR.com
)-- As an apparel company,
Christian Strong™
is doing things differently by offering ways to give back to their local communities while also serving a mission to offer high-quality and inspirational Christian clothing to all Christians. Offering a wide range of apparel for men, women and kids, Christian Strong™ makes Christian T Shirts and a host of other fashion apparel that inspire Christians to talk about their faith and share Christianity in everyday life.
After Christian Strong™ started, they were already selling Breast Cancer Awareness apparel and then came up with a line called Pray for a Cure™, that helps spread awareness and supports women's fight against breast cancer with fashion. Christian Strong™ donates proceeds to Randolph Hospital Mammography Fund which offers free mammogram screenings for uninsured and struggling women in Randolph County, North Carolina. Since its establishment, the fund has provided over 2,400 mammograms.
Another innovative addition to what Christian Strong is doing for Churches across the country is offering custom Christian apparel for church events, youth groups, church retreats and other events at prices that are well below the leading online provider for custom t-shirts. "Our goal is to make it easy for churches to represent themselves in tasteful ways that clearly emphasis their church's identity and their members. Offering this service at a 33% lower cost allows low-funded churches to more easily afford promotional campaigns and church involvement with their own designs," according to Scott Gartner the President and CEO of the company.
As the company's success grows, they are able to offer more products and brand awareness too. The website now includes Christian Baby™, a new brand of Christian Strong that is offering Christian baby onesies at affordable prices for all Christian families. Rather than offering generic baby onesies, devoted Christian parents now have a Christian-based faith company to buy baby clothes from.
About Christian Strong: Christian Strong specializes in creating all their own designs on high-quality Christian apparel for men and women and now even babies. They moved their main facilities from Brooklyn, New York to the small, economically depressed rural town of Ramseur, North Carolina in 2006. Over the last ten years they have brought approximately 125 jobs to the town and helped stimulate the local economy. Buying from the company isn't just about business; it's a part of life and a very meaningful small Christian town in the heart of North Carolina.
Contact Information:
Email: info@christianstrong.com
Plant: 637 Patterson Grove Road, Ramseur, NC 27316
Phone: 800.283.9490 X1001
Fax: 718.832.1994
Contact
Christian Strong
Scott Gartner
800 283 9490
christianstrong.com

Contact