Revival by Martin & Co. Launches New Website, Announces $25,000 WaterAid Donation
New website offers customers beautiful, unique, handcrafted wood watches, with 25% of proceeds donated to clean water initiative.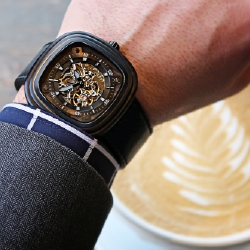 Stratford, Canada, March 08, 2017 --(
PR.com
)-- Today, Revival by Martin & Co., a Canadian watch designer that is committed to using sustainable materials in the crafting of its signature wood watch designs, is pleased to announce the launch of its new ecommerce website,
revivalbymartinandco.com
.
Since inception, Revival by Martin & Co has been committed to making a positive impact on the World, by using only 100% sustainable materials and donating proceeds from the sale of every watch to its charity partner, WaterAid Canada. Following a successful Kickstarter launch, Revival by Martin & Co is pleased to announce that it has already raised over $25,000 for this cause, which is being used to build two fresh water wells in some of the World's poorest areas.
"Our goal has always been to create a beautiful and sustainable timepiece that helps to make a positive contribution in our World," said Dana Ruby Martin, CoFounder, Revival by Martin & Co., "We're so excited to launch our new website, that makes our watches more accessible to customers around the World, while continuing to promote sustainability and change. When we hit the $25,000 donation mark during our Kickstarter success, we knew we were on the path to making an amazing difference in the World and that it was time to take the next steps towards making our products available to a broader audience."
The newly launched website gives global customers the opportunity to browse and purchase Revival by Martin & Co's current product offerings, including their most popular timepiece featured successfully on Kickstarter, The Ignite. It also contains a breadth of information on its partnership with WaterAid Canada.
The Ignite is available for pre-order now and is due to ship in May 2017.
Visit the new website today at
revivalbymartinandco.com
to view the range of beautifully handcrafted watches currently available.
About Revival by Martin & Co.
Revival by Martin & Co. (https://revivalbymartinandco.com), founded in 2016, is a Canadian watch designer, providing premium-quality, beautiful watches made from unique, 100% sustainable materials. With Revival by Martin & Co., every handcrafted watch has been created with meticulous care and precision, and built to the highest global standards. Revival by Martin & Co is also proud to be partnered with WaterAid Canada and 25% of proceeds are donated towards providing access to clean water in developing nations. For more information on Revival, or to view the current product line, please visit https://revivalbymartinandco.com.
Contact
Honeypot Marketing
Alex Maxwell
226-336-6220
revivalbymartinandco.com

Contact