ComSec LLC Adds OverWatch IMSI Catcher Detection Services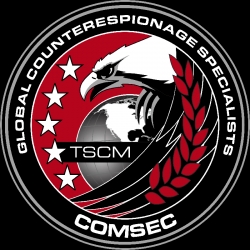 Virginia Beach, VA, March 08, 2017 --(
PR.com
)-- J.D. LeaSure, President/CEO of ComSec LLC announces the addition of IMSI catcher detection capabilities to ComSec's world-class electronic eavesdropping / detection services. Surreptitious use of IMSI (international mobile subscriber identity) catchers and stingray devices pose a significant threat to the security and privacy of USA corporations and individuals. With ComSec's IMSI catcher detection services, our clients gain cost-effective, real-time knowledge of IMSI catchers, baseband processor attacks, rogue base stations and cellular jamming threats to their devices and environment.
"ComSec LLC's exclusive deployment of the ESD Overwatch System equips our clientele with real-time, actionable intelligence they can use to stop cellular attacks and to secure their networks. Enhancing our service offerings with IMSI catcher detection capability further demonstrates ComSec's commitment to providing all-inclusive eavesdropping threat detection services that strengthen our clients' security defenses," remarked J.D. LeaSure, ComSec LLC's President/CEO.
Hackers, foreign governments, foreign intelligence services, authoritarian regimes (via the black market in China), etc. use IMSI catchers to illegally access information sent and received via the 2G cellular network. IMSI catchers can be used to verify a phone's location, track and locate a device, perform a denial of service attack, monitor cell phone use, intercept calls and SMS, and/or alert on the arrival and exit of a phone from a location. While an IMSI catcher can be made for approximately $500, the information illegally captured can be worth millions to the right buyer, and can result in critical financial and other ramifications for the affected corporation or individual.
Cellular Devices Compromised By IMSI Catchers Can Be Used:
· To conduct nation state sponsored industrial or economic espionage attacks.
· To manipulate or control domestic or foreign affairs that affect policy or regulatory issues.
· To capture sensitive or privileged communications and outmaneuver an adversary.
· To steal development, engineering or other valuable intellectual property information.
· To identify clients, suppliers or other contacts.
· To capture damaging personal information about a business, its leadership or owner(s).
· To interrupt or stop important business communications.
"While 3G and 4G networks were once thought to be more secure than 2G networks, devices using 3G or 4G networks can be tricked to connect to a 2G network. Once connected to the 2G network, the cellular device becomes vulnerable to an IMSI catcher or stingray attack(s). ComSec LLC's IMSI catcher detection services expose the threat and enhance your security defenses," Mr. LeaSure assured.
Call ComSec LLC at 800-615-0392 to schedule
IMSI catcher detection
/ TSCM services.
About ComSec
ComSec, LLC is a provider of professional Technical Surveillance Countermeasures (TSCM) and Cyber Technical Surveillance Counter Measures (Cyber TSCM) services in the USA. Our clients include corporations, executives, government agencies, non-profit organizations and dignitaries in the United States and globally. Founded in 2007, our team of trusted experts has more than 30 years of experience in the counterespionage & TSCM field. Visit
comsecllc.com
to learn more.
Media Contact:
Lisa LeaSure
Director of Operations
lml@comsecllc.com
800-615-0392
Contact
ComSec LLC
Lisa Leasure
800 615 0392
https://comsecllc.com

Contact
Multimedia
Learn about ComSec LLC's TSCM and IMSI catcher detection services. As well, the equipment ComSec uses and our detection capabilities are addressed.
Could you, or your company be a target of illegal electronic eavesdropping? Learn about the industries and individuals who face an elevated risk of technical surveillance.