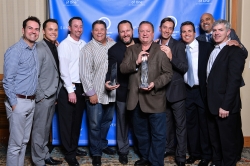 San Diego, CA, March 13, 2017 --(
PR.com
)-- Semper Solaris, a San Diego-based solar installer, has received the SunPower "Residential National Top Producer of the Year" award as well as the "Residential National Dealer of the Year" award for its outstanding performance as a SunPower dealer in 2016. This follows Semper Solaris' win of the same "Residential National Dealer of the Year" award in 2015. This is the first time in SunPower's 32-year history that any company has received this award for a consecutive two years, and also the first time in its history that a company has received both awards in the same year.
The "Residential National Top Producer of the Year" award honors the SunPower residential dealer that has the highest shipment volume in the United States, while the "Residential National Dealer of the Year" award honors SunPower residential dealers in the United States that consistently put customers first, while demonstrating exceptional industry knowledge and leadership.
"SunPower's reputable national dealer network is strengthened by local solar companies like Semper Solaris, selected for their quality craftsmanship, industry expertise and customer service," said Martin DeBono, SunPower senior vice president. "We congratulate Semper Solaris for an extraordinary performance in 2016 as a residential dealer, delivering the value of SunPower solar to homeowners in their communities."
In 2016, Semper Solaris completed over 2,200 solar installation projects throughout ten company locations - all of which featured SunPower's high-efficiency solar panels. Several of Semper Solaris' locations were included in a
2016 report
by the Environment America Research and Policy Center, which ranked U.S. cities according to their amount of solar capacity installed. In this same report, San Diego – Semper Solaris' original location – ranked second in the country for installed megawatts of solar by the end of 2015, and Semper Solaris was a key contributor to San Diego's record-breaking growth.
For more information on Semper Solaris call (888) 210-3366 or visit
http://www.sempersolaris.com/
.
About Semper Solaris
Semper Solaris was co-founded by Kelly Shawhan, former US Marine Corps Captain, and John Almond, local San Diego resident and home improvement expert. Semper Solaris prioritizes military values like personal responsibility and faithfulness in the workplace, and works to hire veterans and offer discounts for military families.