David Sheehan's "AND THE WINNERS ARE 2017." The Oscar Race Fever - Then and Now. The 25 Most Famous Winners Speak Out!
Streaming launches tonight.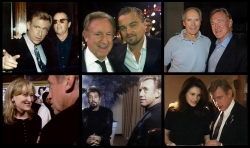 Hollywood, CA, March 10, 2017 --(
PR.com
)-- Click here to view:
https://youtu.be/i8tITL2av10
"AND THE WINNERS ARE 2017" is a fast-paced 60-minute spectacular featuring longtime CBS and NBC film critic David Sheehan's unusually candid movie star interviews with 25 of the most famous Oscar winners (and losers) from the past forty years, including this year's winners Mahershala Ali and Barry Jenkins from "Moonlight" and Viola Davis from "Fences," while Sheehan declares Denzel Washington the "should have won" Best Actor, as he shares his interview feelings about being the only black actor who has already won two Oscars.
Sheehan calls the 2017 Academy Awards "an Oscar Night all-out toast to diversity," as he compares last year's #OscarsSoWhite protest to this year's almost #OscarsSoBlack celebration, plus a sidelong glance at the heavily favored "La La Land" and a surprising angle on Ryan Gosling's soft singing rendition of La La's Best Song winner "City of Stars."
Last year's Best Actor winner Leonardo DiCaprio talks about his many Oscar nominated performances, while Sheehan sees Leo's "Revenant" win as an "about time" prize after 5 nominations and not winning.
"AND THE WINNERS ARE 2017" also features very personal Oscar conversations, in different decades and different attitudes, with screen icons Warren Beatty, Marlon Brando, Tom Hanks, Sylvester Stallone, Meryl Streep, Julia Roberts, Robert Redford, Clint Eastwood, Dustin Hoffman, John Travolta, Jack Nicholson, Paul Newman, Robin Williams, Al Pacino, Morgan Freeman, Bob Fosse, Federico Fellini, and many more.
The lack of superstars in the 2017 Oscars has been complained about, but the Sheehan show "AND THE WINNERS ARE 2017" brings viewers up-close with the timeless star-studded sizzle of Oscar Fever over the years, and what it all means to the big name competitors who have won (and lost).
In 1970, Sheehan was the first entertainment reporter-critic on a nightly newscast in the history of television. Now, 47 years later, his "AND THE WINNERS ARE 2017" turns out to have more major stars (25) than any hour-long show in the history of television.
"AND THE WINNERS ARE 2017" is sponsored by Disney's "Beauty and the Beast," with all net proceeds going to Children of the Night, St. Jude Children's Hospital and the Los Angeles Mission.
The show debuts March 10th on YouTube, where it will be streaming throughout March and April, plus Cable TV broadcasting to the 40 million subscribers of JLTV beginning Sunday March 12. Check local listings for more airings of a highly entertaining entertainment show about the stars who entertain!
Hollywood Close-Ups, Inc. is the "AND THE WINNERS ARE 2017" production company, with writer-producer David Sheehan sharing the fun with production supervisor Tod Hillman, associate producer Michael Vincent and executive producer Kellyann Chippendale.
***Streaming launches tonight***
Click here to view:
https://youtu.be/i8tITL2av10
Press contacts:
Stacia Brigham (714) 305-6945 staciapublicity@gmail.com
Michael Vincent (323) 376-6958 michaelgreyvincent@gmail.com
Contact
Hollywood Close Ups, Inc
Stacia Brigham
714-305-6945
hollywoodcloseups.com

Contact