Polymet Corporation Celebrates 50 Years of Success & Innovation
2017 marks Polymet's 50th year in business. Company celebrates with brand new facility.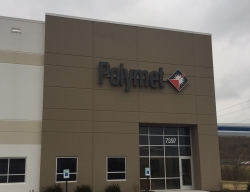 Cincinnati, OH, March 22, 2017 --(
PR.com
)-- This year Polymet celebrates 50 years of success and innovation. Since the company's beginnings in 1967, Polymet has built its reputation on a strong commitment to quality, a capable team of employees, and a dedication to the customers they serve.
Polymet was founded in 1967 specifically to manufacture one-of-a-kind hardfacing consumables for the aerospace industry. Through the organization's dedication to innovation and service, it has grown into a globally recognized provider of hardfacing solutions for the world's most demanding industries, including: Aerospace, Oil & Gas, Power Generation, Mining, Lumber, and more.
"We constantly strive to evolve. Over the past few years we have significantly invested in R&D and we are already seeing the benefits," says Bill Mosier, President of Polymet. "I am confident the next 50 years will be even more successful than the last."
Celebrating 50 Years
The biggest and most exciting marker for Polymet's 50th anniversary is the move to a brand new 90,000 square foot facility.
"Our new facility will not only make our operations more efficient but will also facilitate future growth," Mr. Mosier said. "Polymet has been in operation in the West Chester area for 50 years and we could not be more excited to celebrate with a new, bigger facility."
About Polymet Corporation
Polymet Corporation is a world-class manufacturer of high performance wire for hardfacing, welding, and thermal spray applications. We produce high quality products used in aerospace, power generation, nuclear, lumber, mining and many other industries. Polymet wires are ideal for demanding applications such as metal to metal, metal to earth, high impact, high abrasion, corrosion and high temperature wear.
Contact
Polymet Corporation
Alex Zappasodi
513-842-1119
polymet.us

Contact