UMASS Amherst's Isenberg School of Management's CISDM Releases Flash March 2017 Hedge Fund Index
CISDM Equal Weighted Hedge Fund Index Indicates a Positive Performance of 0.83% for March.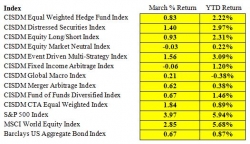 Amherst, MA, March 21, 2017 --(
PR.com
)-- UMass Amherst's Isenberg School of Management's Center for International Securities and Derivatives Markets (CISDM) has released its Flash March Equally Weighted Hedge Fund Index. The CISDM Equal Weighted Hedge Fund Index was up 0.83% for the month of March. The full version of the index will be released on March 25.
The adjacent table displays the performance of CISDM sub-indices.
CISDM Equal Weighted Hedge Fund Index continued its gains in March, as global equity markets displayed positive performance. The broad index increased by 0.83% in March, bringing its total 2017 return to 2.22%. In addition, all equity oriented hedge fund strategies exhibited strong performance in February. CISDM Multi-strategy and Equity Long/Short indices increased by 1.56% and 0.93%, respectively last month. According to the Federal Reserve Bank of Chicago's index of National Financial Conditions (NFCI), looser conditions have prevailed in credit markets since August of 2016. This has led investors to adopt "risk-on" investment strategies in recent months, making Distressed Securities as one of the best performing categories since then. The Distress Securities index increased by 1.4% during March. The recovery in commodities and trending currency markets helped Commodity Trading Advisors reverse the loss in January, earning 1.84% in February.
The Morningstar CISDM Database (formerly the MAR Database) is the oldest Hedge Fund and CTA database in the market. Tracking qualitative and quantitative information for more than 5000 hedge funds, funds of funds and CTAs since 1994, it is the only database associated with a nonprofit organization. This adds a layer impartiality to their data that other indexes cannot boast. This database is subscribed to by a number of universities and financial institutions.
The CISDM places the Isenberg School in the forefront of academic institutions that conduct research into derivatives, alternative investments and asset and risk management, and promotes interactions between the academic and business communities.
Have any questions about the CISDM or want to know more about the CISDM-Morningstar Hedge Fund Database and the monthly flash indexes? Hossein Kazemi, the Michael and Cheryl Philipp Endowed Professor Finance at the Isenberg School, is available for comments and interviews.
For media inquiries please contact:
Kirk Monroe
kmonroe@rasky.com
202-207-3646
About the Isenberg School of Management
Founded in 1947, the Isenberg School of Management on the University of Massachusetts flagship Amherst campus has 42,000 alumni in 86 countries. Isenberg offers its AACSB-accredited courses to 4,800 students on campus, online, and in blended formats. The School's 3,400 undergraduates major in seven business disciplines, including industry specialties such as hospitality & tourism management and sport management. Over 1,400 students are enrolled in the Isenberg MBA and they can focus their studies in Health Care Administration, Entrepreneurship, Finance and Marketing.
For more information, visit www.Isenberg.umass.edu.
Contact
UMASS Amherst's Isenberg School of Management
Kirk Monroe
202-207-3646

Contact