myVRM and 3Touch Have Joined Forces to Enhance Productivity in the Work Place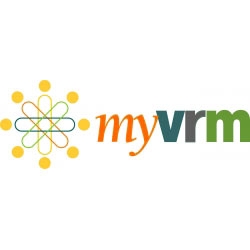 Athlone, Ireland, February 06, 2008 --(
PR.com
)-- myVRM & 3touch are making it easier for customers to schedule, manage, and track meetings while maintaining central control and security around presentation material and delivery.
Having complete control over every facet of conferencing is a key component in ensuring flawless execution of meetings anywhere, any time. The two companies are offering this type of collaboration to customers who recognize this value proposition. While 3touch is making management, control and delivery of all your presentation material effortless, myVRM is providing an all-in-one scheduling and resource management tool. The integration of myVRM with 3Touch allows users of Polycom, LifeSize, Tandberg, Cisco and Radvision videoconferencing equipment to schedule multi-site audio or video conferences, meetings, conferences and lecture rooms, as well as manage sensitive content anywhere in the world—all within the same easy-to-use web interface. By leveraging the capabilities of both companies, a client can schedule, manage and track usage of multiple devices and maintain control over them from one centralized command center. "The combination of these two technologies has tremendous potential," says Larry Roher CEO of myVRM "the market place is wide open for this technology as evidenced by enthusiastic customer response."
The companies have entered into a strategic partnership to jointly market and sell the integrated offerings. "At 3Touch we are constantly looking at new ways to improve our products. We wanted to take presentation to the next level and allow the presenter to control multiple peripherals used in the delivery of presentations, all from an easy-to-use interface," says Eamonn Roarke, Founder of 3Touch. "This combined offering is unique and our collaboration helps better position each firm in the global marketplace."
About 3touch:
3Touch develops innovative presentation solutions and secure content management. The technology platform developed to date is a comprehensive client/server-based solution that provides real time, integrated multimedia, streaming, control and interactive applications using a variety of wired and wireless media transport technologies.
www.3touch.com
About myVRM
myVRM is an intelligent, multi-faceted tool that makes scheduling, managing and tracking meetings easier and more productive. Whether you're using myVRM to schedule multi-site video or audio conferences, manage and track usage of multiple devices or simply to ensure that you never double-book a conference room again, myVRM is there to help. www.myvrm.com
Contact myVRM, Brianne Keitz +1 888-698 7698 x124 bri@myvrm.com
Contact 3touch
Anita Myers
+ 353 90 6444000
Anita.Myers@3touch.com
###
Contact
3touch
Eamonn Roarke
+353906444000
www.3touch.com
UK Office +442075264990
US Office +12039030034

Contact